---
In this modern era, the way the world works has changed dramatically. The internet has removed the traditional work barriers, and now, neither borders nor boundaries are hurdles to generating an income. With your computer, the benefits of telecommuting, and the internet, you can showcase your skills and get paid from anywhere in the world.
Beginners can make money on Upwork by creating a quality profile, connecting with clients, and getting paid for work done. Upwork is one such freelance platform, and beginners can make money by placing themselves as skilled professionals able to solve specific problems for clients. 
How do you get into Upwork and earn money, and, more importantly, how much can you earn by doing this? It's quite easy to get started, and the money, well, you can make a lot more on Upwork if you do it the right way.
The Simplicity Of The Upwork Model 
Upwork is a massive digital job board that allows freelancers to connect with and apply for jobs and projects with clients. Thanks to the internet and even Covid, companies have been forced to look outside of regular channels to find specialists in their field to solve problems for them.
Upwork started as the website Elance in 1998, and in 2015 Elance merged with Odesk, and the result was Upwork. The combined platform has opened up the international work market for freelancers and offers a work-from-home solution that will suit people that prefer to have a variety of projects to suit their skills.
Getting Started On Upwork As A Beginner
As with most job platforms, Upwork has made it easy and quick to get going, and within a few minutes, you can be set up and ready to start working.
The process involves signing up by going to the website at upwork.com and clicking on the 'Sign Up' button, then completing the questionnaire so that they can get to know a bit more about you. Then submit your application and give it a few days for a reply.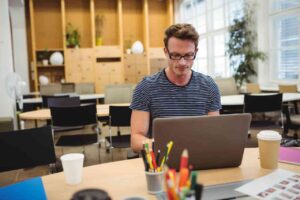 Because Upwork does try and limit the number of freelancers in a particular field of work, they don't have an abundance of workers as this will lower the chances of people getting assigned projects.
If this happens to you the first time, don't worry about it and try again in a few days. However, there are skills you need as a freelancer to be successful.
You've Been Accepted To Upwork-Three Steps To Start Working
Now that your application for Upwork has been accepted, you need to start working, so here are the three steps you can take to get yourself up and running.
Step 1 – Create A Power Profile 
Great news! Your application was accepted, and now you can start working and earning money. The first step from here is to create a profile for yourself. Unlike a CV or applying for a job at a big company, your profile should have a personal touch so that prospective clients get a feel for the kind of person you are.
To create an excellent profile, fill out as much of the information as you can, as the more you input, the better. This is ALL about self-promotion, so don't hold back on achievements, work and previous employment history, and portfolio pieces.
Don't forget to include profile details like:
how many hours per week you are available
your location
preferred rates
Upwork profiles are usually approved within 24 hours, and then you are ready to go!
The Upwork Overview – Tips To Make Yours Irresistible
There are two sections in the Upwork profile: the overview section and the portfolio section. The overview section will be the one that potential clients scrutinize the closest. So when you create this one, use these tips to make it stand out!
· Make use of specific numbers and data to demonstrate your ability, results, and experience
· Write short paragraphs and use bullet points for easy reading
· Address and answer potential questions clients may have
When it comes to your skills, be specific. For example, if you are a writer who specializes in copywriting rather than post or content, include that into your profile. This is because the workplace is becoming more and more specialized.
By creating a profile that lists your strengths and unique skills rather than a general skillset, you stand more chance of connecting with clients explicitly looking for your skillset.
Tips For A Great Portfolio
Once the overview is done, move to your portfolio and include your best work in the selected niche. Use previous case studies and results as well as success stories and letters of recommendation from previous clients.
Make it comprehensive and ensure that you can include contactable references for authenticity.
Tip: Before creating your profile, take the time to list your skills and rate them and your portfolio, so you get a good overview of your abilities ranked from highest to lowest. This will save you time when you set up your Upwork profile.
Tips How To Create And Leverage Your Portfolio And Overview For Best Results
Instead of having a standard profile, you need an edge to make your profile stand out and appeal to potential clients- use these tips for better results.
Step 2 – Select Your Upwork Membership Plan 
Like many other online businesses, Upwork offers membership plans that give their uses options for either the free version or paid one. The two plans available are the Basic and Plus plans.
The Upwork Basic Plan For Beginners – Free
This is the free version and provides you with 60 free 'Connects' when you first start. Once those are depleted, you have to pay $0.15 per 'connect.'
The 'connect' is Upwork's way of allowing freelancers to reach out to potential clients and submit their proposals for the work on offer. Using your 'Connects' wisely can provide you with a great start and could allow you to invest in the Plus plan soon after starting.
The Upwork Plus Plan – $14.99 Per Month
The Plus plan includes all of the features of the Basic plan but has some decent value adds.
One of the advantages of this plan is that you get to see the competitive rates of freelancers in the same niche as you, while the basic plan doesn't offer that. This feature gives you a good idea of what to charge, so you don't under- or overprice yourself in your niche.
With the Plus Plan, you also get 70 'Connects' monthly, the option to customize the URL on your profile and, if you aren't active for some time, your profile remains active and visible.
Step 3 – Connect With Potential Employers 
Now that you have your profile and plan in place, it's time to start connecting with potential clients. Now you are ready to start searching the job boards for suitable projects.
Checking out all the available positions that suit your abilities is exciting, and you'll be amazed at how much is available. Some of these positions may lead to a contract-to-hire job down the road.
Once you have found positions you want to apply for, you can use your 'Connects' to reach out to those clients, and then you need to create a cover letter to motivate why you would be the best option for this project.
Part of this involves setting your rates, and this is where the paid plan has an advantage so you can see what the other candidates are charging for this project.
Whether the opportunity is remote work vs. work from home be sure to focus on your cover letter. Your cover letter should be an aggressive promotion of yourself with around four or five paragraphs with links to previous work and success stories to position yourself with a better chance to be awarded the job.
Be a bit more personal and make sure you address the client's specific requirements directly rather than talk about yourself. Your client needs to KNOW from your proposal that you can solve their problem.
Don't waffle or add fluff; get to the point because bulking up your cover letter with no actual value for the client can damage your chances. While its difficult to transition to working for yourself it is worth it.
Do Your Due Diligence On Potential Jobs And Clients
Part of your job search involves some due diligence on your potential clients, and here is another tip that can save you a lot of headaches and lower the risk of clients trying to lowball you.
Tip: Read the Upwork Reviews that other freelancers have made about the positions you are interested in. Use sites like Glassdoor and The Better Business Bureau to gauge your employer's reputation.
Like many other sites such as Uber, Upwork has a mutual rating system that allows clients and workers to rate their experience. When looking through the jobs available, take note of the ratings and comments for that client.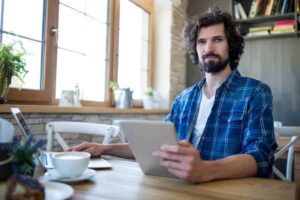 If there are quite a few ratings of two or three stars, this red flag should potentially be avoided. These reviews may indicate a problematic client who may be excessively demanding and not want to pay the going rates.
Use This 'Secret' Technique To Hook More Clients
Use the 'filter' feature when searching, and you can set your options to the following configuration:
For Client Info: Select 'Payment Verified'
For Number Of Proposals: Select 'Less Than 5'
For Client History: Select' 1 to 9 Hires' AND '10+ Hires.'
For Experience Level: Select 'Choose Your Experience Level'
Now you have a secret weapon so get them!
Once you've set this up and created your cover letter and Rate, click 'Submit' and wait for the response.
How Upwork Payments Work 
There are two types of work on Upwork: hourly rates and fixed price project rates. Upwork operates on a weekly billing cycle that ends on a Sunday, and your funds will be available 10 days after the billing cycle ends.
The hourly work projects get logged using Upwork's app called Work Diary. When active, keep a log of your activities such as keystrokes, clicks, scrolling, and active windows and periodically take screenshots to prove work time.
While you can turn this off, having it qualifies you to use Upwork's Hourly Protection ensures you get paid for work you can prove you have done, even if the client refuses to pay. This is a great innovation as it lets you work and get paid without the client declining payment.
The fixed-rate cycle works on milestones achieved, and once the client approves the milestone, the funds are available to you after the standard 5-day security period has expired.
Payments are made via PayPal, Payoneer, or bank transfer, and withdrawal fees may apply.
Upwork's Commission On Work Done 
Upwork takes a commission of all payments made through their platform, and these fees range from 5%-20% and are based on a sliding scale based on the amount charged to the client. This does not include any extras like extra payments for long-term contracts, bonuses, or advances.
The sliding scale on Upwork is structured as follows :
| | |
| --- | --- |
| TOTAL BILLED TO CLIENT | UPWORK COMMISSION AMOUNT |
| $500 or less | 20% |
| $500.01 to $10,000 | 10% |
| $10,000.01+ | 5% |
Upwork rewards ongoing or repeat billing for clients, so if you have already done $800 worth of work for a client and then do another project for $400, you will be billed at the 10% commission rate as you are in the 2nd bracket for this client.
Remember though there are tax deductions for independent contractors available.
What Kind Of Work Is Available And What Are Their Rates
Upwork is virtually unlimited in the variety of work it offers, but some types of work are more common than others. Let's look at the six most common forms of projects on Upwork and their average rates.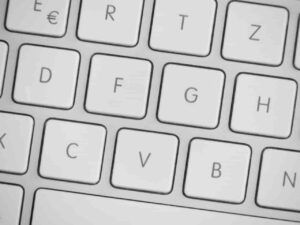 Video Editing
Video editing is in high demand, and if you can be on-site to assist with or do the shooting yourself, this is a preferred option, and high ticket clients will be willing to pay for this.
Hourly Rate: $5 – $60
Project Rate: $5-$12000
Web Design
There can be as many as 3000 clients on Upwork currently looking for web designers. If you are a specialist in WordPress, Gutenberg, Divi, or Elementor, your chances of landing a decent project at a reasonable rate are strong!
Hourly Rate: $5 – $175
Project Rate: $5-$7000
Copywriting Or Blog Writing
Often, people wonder is writing a book is a good way to make money? Typically, copywriting offers more than blog writing, but some clients pay per 100 words, and others pay per article completed.
Hourly Rate: $5-$60
Project Rate: $5 – $750
Social Media Marketing
Suppose you have any knowledge in this particular niche. There is money to be made in that case as this is one of the most lucrative positions on Upwork, with around 3000 clients actively looking for competent people in this market.
Hourly Rate : $5 – $250
Project Rate : $5 – $6000
Virtual Assistant
Many small business owners realize that they need assistance with the smaller tasks involved in running their business, such as managing email, client follow-up calls, social media maintenance, and project planning.
This is an excellent option if you are an organized individual and enjoy doing different things during the day.
Hourly Rate: $5 – $60
Project Rate: $5 – $700 (Mostly on a retainer basis)
Graphic Designers
This is a very popular and potentially lucrative market, and the variety of work available is substantial.
Hourly Rate: $5 -$150
Project Rate: $5 – $4500
Pros And Cons For Beginners On Upwork 
Before you start on Upwork, here are the pros and cons of using this platform to earn money as a beginner, and the odds are well in your favor.
Pros Of Using Upwork
You can work from wherever you like
It's a fantastic way to grow your work portfolio
You work with clients around the world
Clients can leave you bonuses for good work
Excellent support
You are guaranteed to get paid
All the contracts are made for you
Cons Of Using Upwork
Also be to know some of the cons that exist.
Some clients may try to scam you, but using the official portals for work submission will avoid this
The initial commission of 20% is sizeable
Upwork has a lot of freelancers
Screenshots may be required for hourly work if not using the app
Highest Paid Freelancers on Upwork
There is no question that you can survive as a freelancer and make money on Upwork, but the following people are currently topping the Upwork leaderboard in overall earnings.
1. Top earner – $500,000
No information available just yet.
2. Second highest paid freelancer- $180,000+
Huge variety of skills under his belt, including SEO marketing, advertising management, video production, and copywriting.
3. Third highest-paid freelancer – 179k
A great mix of social media marketing work, which is strong for Upwork and some graphic design related projects.
4. Forth highest-paid freelancer – $176,000
Solid content writing portfolio with impressive engagement rates for blog posts.
5. Fifth highest-paid freelancer – $139,000+
A solid social media presence for focusing on Pinterest and Facebook. 
Tip: The key to making money on Upwork as a beginner is to have a solid portfolio and an unbelievable rate.
 The biggest challenge that beginner freelancers face is the authenticity of their work. If you want to make money on Upwork as a beginner, it's important to build at least two solid portfolios before starting an account. These should include examples of your writing, art skills, or videos. Make sure they are top quality and could be featured in big-name magazines such as or Forbes.
How Much Do The Top 1% of People on Upwork Make?
The top 1% of earners on Upwork make an average of $500,000+ per year. The top 10% make an average of $147,000+ per year. The top 20% make at least $85,000+ per year, and the remaining 80% earn between $20-$50k in salary each year.
Over 500 million freelancers are working right now worldwide, and nearly 40% of all businesses in America use some form of freelancer services to get work done.
Related Questions:
What is the most basic position you can apply for on Upwork?
The most basic position you can apply for would be a "Gig." Gigs are small tasks for which you will get paid an affordable amount of money in return.
Can I start on Upwork without a portfolio?
Yes! You definitely can start freelancing on Upwork without a portfolio just yet. However, keep in mind that this could be difficult if you try to sell yourself with words alone. It is recommended that you have at least two solid portfolios for writing, art, or video before beginning with an account.
Why am I not receiving any income on Upwork?
You may not be receiving any income from Upwork because you have yet to apply for a position. Make sure to check the latest jobs postings and complete one of them to receive payment.
Why do beginner freelancers fail?
Beginner freelancers fail because they have not created any portfolio before starting an account. This makes it difficult for them to get jobs and clients right away.
Conclusion 
There certainly is a lot of money to be made on Upwork for beginners, and many people that work for them report being able to maintain their lifestyle and pay all the bills working from this platform.
If you are willing and committed to investing the time and effort and doing the work properly, you can make money on Upwork and have an excellent living within a few months.