---
A great plus to remote working is that you can work from wherever you want as long as that place has decent wifi. Therefore, many remote workers choose to work at their favorite coffee shops as most coffee shops provide wifi. This is especially ideal if you are looking to work remotely and travel. So, what coffee shops with wifi are great for remote work?
Here are 11 coffee shops with wifi for remote work:
Joe and the Juice
Dunkin' Donuts
Starbucks
Tim Hortons
Coffee Bean and Tea Leaf
Costa Coffee
Dutch Bros Coffee
Peet's Coffee
Caribou Coffee
Biggby Coffee
McCafe
This article will discuss some of the best coffee shops with wifi for remote work, the access of wifi provided, and the atmosphere of each coffee shop that makes it great for remote work.
1. Joe and the Juice
Joe and the Juice isn't just a coffee shop but a shop that sells a variety of food and beverages. While it isn't the most popular coffee chain, meaning typically, there isn't one on every corner around the United States; however, it's still an excellent place with a wide variety.
Joe and the Juice sell anything from an iced americano to an herb tonic shake. The food provided includes the typical coffee shop snacks, such as blueberry muffins or banana bread, but it also sells various sandwiches and breakfast bowls.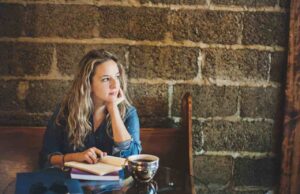 Because of the variety of foods and beverages and the cozy atmosphere of the shop, Joe and the Juice is a popular spot for remote work. The wifi is free and completely unlimited, so you don't have to pay for it or only have a few hours of free access like some shops. 
Therefore, you don't have to wait on slow wifi while you're working. There are also various outlets at Joe and the Juice coffee shops, so if your computer starts to lose battery, you can easily plug it in and continue working.
2. Dunkin' Donuts
Dunkin' Donuts is a more popular coffee shop chain and a favorite of many. They have a menu with a wide variety, including coffee (iced, hot, and frozen), teas, sandwiches, wraps, bagels, muffins, and of course, donuts.
While Dunkin' Donuts is a coffee shop, the atmosphere can sometimes be a bit busier and less relaxing. It's more of a fast-food establishment now because of the various breakfast sandwiches available. However, this doesn't mean someone who works remotely can't enjoy working there.
Dunkin' Donuts typically has fast wifi and offers many outlets for all of its customers. However, you have to log into your Dunkin' Donuts account to use their free internet. Although this might be annoying to some, having a Dunkin' account, especially for those who frequent Dunkin' Donuts, can allow you to access many deals along with internet access.
According to PureVPN, Dunkin' Donuts has an average wifi speed of 24.2 Mbp/s. Compared to many other coffee shops, this wifi is good, albeit not the absolute best. However, these speeds differ depending on the location. PCMAG, for example, found some Dunkin' Donuts shops with speeds over 100 Mbp/s.
For those remote workers that depend on quality wifi, Dunkin' Donuts is a great place to be. Not to mention all of the delicious donuts always available for purchase.
3. Starbucks
Starbucks is probably one of the most popular and most prominent coffee shop chains, especially in the United States. While they're known for their delicious coffee, they also offer many snacks, sweets, and sandwiches for breakfast and lunch. These include roasted ham, swiss and egg sandwiches, chicken Caprese panini, assorted bagels, cake pops, and other sweets.
Starbucks also sells various specialty cups, which workers can use to make your drink, and a variety of their coffee bean blends that you can take home with you.
According to Cnet, Starbucks has an average download speed of 51.15 Mbp/s. While this is an excellent wifi speed, many people who enjoy working at their local Starbucks go for the environment. As long as the internet works as it should, most people will be able to work properly in Starbucks.
Starbucks' wifi is free and unlimited, but it wasn't always like that. 2010 is when Starbucks started allowing free and unlimited wifi to its customers. However, before this, customers used to have to pay. Customers would get two hours of free wifi but have to pay a small fee after that.
People can only describe Starbucks' environment as relaxing and calming. While they play music on occasion, it typically isn't loud, and depending on the size of the Starbucks, there's usually plenty of seating to choose from and multiple outlets available. It's a great place to make money on UpVoice if you want to enjoy your java and casually earn money passively.
Therefore, if you're looking for a comfortable place to set up for the day and get some work done, Starbucks is a good choice. While their drinks may be a bit pricey and expensive, the wifi is free, and the environment is welcoming.
4. Tim Hortons
Tim Hortons, like Dunkin' Donuts, is more of a fast-food establishment. However, that doesn't mean that it isn't a suitable place to work remotely. They're known for their coffee and donuts and are favored by many.
Tim Hortons' menu is very diverse. There's the option of so many different kinds of coffee, both hot and cold, and a large variety of delicious donuts. There are even hamburgers and hot dogs available along with the expected items, such as bagels and breakfast sandwiches. Therefore, Tim Hortons has something for everyone.
PCMAG found Tim Horton's wifi speed to be around 22.7 Mbp/s. While the wifi is on the slower side (depending on the location), it's fast enough for most people who work remotely. Tim Hortons offers two types of wifi: 
Wifi Basic: This is basic wifi that requires you to register each time you connect.
Wifi Advantage: Wifi that offers one-time registration per device as well as device recognition.
The wifi advantage is for those who go to Tim Hortons frequently, as your primary device will automatically connect, and you won't have to go through the whole registration process. The benefits of telecommuting and using wifi is that once you sign in, your device will recognize the wifi network next time.
Tim Hortons' environment may be a little too busy-feeling for many remote workers. However, some people don't mind the environment but choose to work remotely at Tim Hortons for available coffee and snacks. Some people have found that a few Tim Hortons don't have many outlets available to their customers, so that's something to look for at your local Tim Hortons.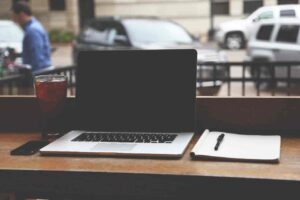 5. Coffee Bean and Tea Leaf
Coffee Bean and Tea Leaf is a popular coffee chain that also goes by The Coffee Bean. They offer a smaller selection of coffees and teas compared to many other coffee shops. However, they do have a selection of regular coffees, espressos, and ice-blended drinks, as well as several teas.
Coffee Bean and Tea Leaf only offer small pastries and sweets when it comes to food, although some locations may differ. Therefore, if you decide to work remotely at the Coffee Bean, don't go on an empty stomach.
According to Cnet, Coffee Bean and Tea Leaf's wifi averages at around 2.31 Mbp/s. While this speed isn't the fastest, depending on the type of remote work a person is working on will factor into if this internet will work for you. 
This internet speed will be sufficient for those just accessing websites, writing reports, or editing various writings, though it's just not the best. And, of course, every Coffee Bean and Tea Leaf location might differ when it comes to wifi speed.
Despite the lackluster wifi speed, the environment of Coffee Bean and Tea Leaf is described as relaxing. Therefore, it'll most likely be quieter than places like Dunkin' Donuts or Tim Hortons. 
So, if you're someone who needs a more peaceful, relaxed place to work, Coffee Bean and Tea Leaf is for you.
6. Philz Coffee
Philz Coffee is a smaller coffee chain, with only 66 locations in Chicago, Sacramento, San Diego, Los Angeles, San Francisco Bay area, Washington D.C, Maryland, and Virginia. Despite this, many people frequent Philz Coffee for the delicious coffee and great atmosphere.
Philz Coffee offers a variety of coffee blends, including dark, medium, and light blends and several "featured creations" that the coffee shop promotes. Along with caffeinated coffee drinks, Philz Coffee also offers hot cocoa, decaf coffees, and several different kinds of tea.
However, what's different about Philz Coffee compared to other coffee shops is it only serves pour-over coffee drinks, so there's no espresso or blended drinks (such as lattes) on the menu. However, the menu does point customers toward drinks similar-tasting to lattes or cappuccinos for those who aren't sure what to order.
Workfrom reported the wifi speed at Philz Coffee to be 6 Mb/s. Philz Coffee has many outlets accessible to the public, so you can plug your computer in as you work, and the noise level typically isn't too loud.
The atmosphere at Philz Coffee is described as warm and inviting, so for those looking to set up camp and work remotely for the day, this is a great choice as long as you don't need a latte or cappuccino drink.
7. Dutch Bros Coffee
While not as popular as some coffee shops, such as Starbucks, Dutch Bros Coffee is still an excellent place to get a coffee. However, you won't find a Dutch Bros in every state. There are only locations in Oregon, Washington, Idaho, California, Utah, Nevada, Colorado, Arizona, and New Mexico.
While Dutch Bros Coffee used to be a drive-thru-only company and is even considered the country's largest drive-thru coffee company, many stores have opened with inside and outside seating, so now people can walk in and order. However, before driving to your nearest Dutch Bros Coffee, you'll want to ensure that it has indoor seating, allowing you to work remotely.
The Dutch Bros Coffee menu is diverse, with smoothies, lemonades, teas, and of course, coffees. Many of their coffee drinks come with the option of iced, hot, or blended, and if coffee isn't for you, they even offer a variety of energy drinks.
According to Workfrom, Dutch Bros Coffee has a wifi speed of 28 Mb/s. However, it has limited access to outlets. Therefore, it would be best to ensure your computer is fully charged and ready to go beforehand. 
Dutch Bros Coffee is a bit on the noisier side, so if you prefer softer-sounding environments, this might not be the best location for you to work. However, if you prefer the coffee, there's nothing a nice pair of headphones won't fix.
8. Peet's Coffee
Peet's Coffee is located in various places across the United States, but there isn't an abundance of them like Dunkin' Donuts or Starbucks. However, they're favored by many, so much so that the coffee itself is sold in stores.
Peet's Coffee offers hot and cold coffee, tea, and artisanal food, such as chicken and waffles sandwiches, turkey sausage breakfast burrito, and crispy ham and swiss sandwiches. Their assortment of coffee, including iced, blended, and hot drinks, is abundant. Therefore, everyone should be able to find a drink that suits them.
While Peet's Coffee offers free, unlimited access to the wifi, according to Cnet, they have one of the slowest wifis when it comes to coffee shops, with around 0.5 Mbp/s. However, not every Peet's is the same, so that some locations may have faster wifi than others. 
If you are following how to transition to working for yourself, stable and fast internet is key.
Despite this, the atmosphere in Peet's Coffee is typically relaxing, with many areas to lounge around. However, like most coffee shops, they tend to play music (sometimes a bit too loud), so scouting out your local Peet's Coffee to see if it's the right environment for remote work is the best option. This will also allow you to check the internet speeds.
9. Caribou Coffee
Caribou Coffee has several locations across the United States, but like Peet's Coffee, it isn't the most commonly seen coffee shop. However, if you have one near you, it's worth checking out because of the extensive menu. It's been dubbed the best food cafe and provides excellent coffee.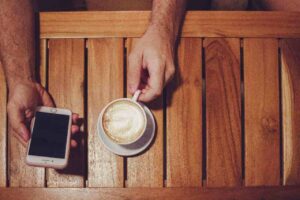 Caribou Coffee has drinks for everyone, from people who want several espresso shots in a drink to those who want coffee-less drinks. Even drink options have fewer calories than it typically would for those who need it.
There's also an entire kid's menu with kid-friendly drinks that resemble their other coffee drinks. Not to mention, Caribou Coffee offers cake pops similar to Starbucks and all-day breakfast foods.
Caribou Coffee's wifi is unrestricted, and according to Food and Wine, the wifi speed is about 18.8 Mbp/s. They encourage their customers to bring their laptops in, so it's remote worker-friendly.
The atmosphere at Caribou Coffee is described as laid back and relaxing, which is precisely the environment a remote worker could hope for.
10. Biggby Coffee
Biggby Coffee originated in Michigan and has spread out to select states since then. While not the most popular coffee shop, they have a competitive menu, with typical coffee drinks such as an enormous selection of lattes, regular coffee, smoothies, and even tea lattes.
Like Caribou Coffee, Biggby Coffee offers a kid's menu with coffee-free drinks and various breakfast foods, including bagels, donut holes, and breakfast sandwiches. Some offer an outdoor patio and are a solid choice if you are searching for cafes to work at.
Local Wiki found the wifi speed at Biggby Coffee to be about 15.47 Mbp/s. The wifi is unrestricted, so you can use it as long as you like. There's also plenty of access to power, making Biggby Coffee remote worker-friendly.
The atmosphere is relaxed and welcoming, and Biggby Coffee is actually known for its friendly atmosphere and excellent customer service. Therefore, with an excellent selection of delicious drinks, friendly workers, free wifi, and a relaxing environment, this is every remote worker's dream location.
11. McCafe
When you think of Mcdonald's, you probably don't consider it an excellent location for working remotely. However, Mcdonald's has wifi and McCafe, which offers a selection of coffee drinks. There are plenty of seating options available, depending on the location, so as long as you have headphones and your laptop to work from, working at your local Mcdonald's is an excellent option.
Along with the assortment of McCafe drinks, McDonald's has many other items on its menu. Therefore, if you decide to spend the day working there, you'll always have food available (and at a low price). 
According to Cnet, Mcdonald's has a wifi speed of 4.19 Mbp/s. Although it's not as fast as some places, it's still sufficient enough to get work done through the internet. Mcdonald's does have outlets available, and some Mcdonald's have USB ports as well, depending on the location.
However, Mcdonald's can get pretty busy during the rush hours, and sometimes that means a loud, distracting environment (especially if your Mcdonald's has a play place for children). Therefore, it's not the first place people choose when they need to work.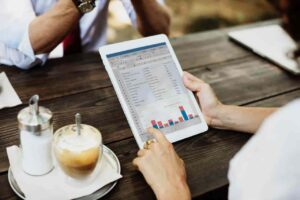 Related Questions and FAQs:
Why do coffee shops offer free wifi?
Coffee shops provide free wifi because they want to attract potential customers who need the internet. Not only is coffee naturally stimulating, but coffee might bring in more business if coffee shop goers are content with browsing the internet on their devices.
How do coffee shops stay afloat if they offer free services?
Coffee shops make up for offering free internet by selling coffee, tea, coffee-related products, food, and so on. Therefore, coffee shops don't necessarily lose money by offering free internet access.
Which coffee shops with wifi are open 24 hours?
Coffee shops with coffee and free wifi often close around 10 p.m. or 11 p.m., but there are a few coffee chains that have select coffee shops that are open 24 hours. For example, Dunkin Donuts and McDonald's both have coffee shops open 24/7, while Starbucks has a very limited number.
How can I protect myself from coffee shop wifi theft?
It's easy to access coffee shop WIFI, but that doesn't mean everyone who isn't a paying customer should be allowed to. If you're worried about coffee shop wifi theft, you can purchase a VPN service. A VPN encrypts your connection and will protect you from coffee shop hackers.
How do coffee shops without wifi stay in business?
Coffee shops that don't have coffee shop wifi or coffee shop delivery options typically rely on their location and atmosphere for business. For example, a coffee shop near a college campus might rely on students who want to study at a quiet coffee place instead of studying at home with distractions such as TVs and dishwashers going. A coffee place that has a great ambiance will also bring customers back over and over again. This is why some coffee places offer free wifi for limited times during the day or week.
Do a lot of people work remotely from coffee shops?
Nowadays, coffee shops are becoming a popular place to work remotely. With coffee shop delivery services and coffee shop wifi, coffee shops are popping up everywhere. According to the Bureau of Labor Statistics, about 25% of American wage & salary workers work from home at least one day per week.
Are there coffee shops with wifi and outdoor seating?
There are coffee shops with wifi and outdoor seating, but it depends on the coffee shop itself. Some coffee shops have little or no outdoor areas available for customers, while others make a point to offer coffee with wifi and outdoor seating. For example, Starbucks has coffee shop wifi and places where you can sit outside if the weather permits.
Coffee Shop Density by Country
The United States has the most coffee shops out of all countries in the world, but it doesn't have the highest coffee shop density. That title goes to Australia with two coffee shops per 1,000 residents (compared to 1 coffee shop per every 524 residents in America). Iceland is second with one coffee shop per every 365 citizens. However, there aren't that many coffee chains available in Australia or Iceland, compared to the United States.