---
Working remotely and traveling is a dream for many people, but unfortunately, taking time off to travel possibly means losing income, at least for the duration you are away. Even if you can afford your travel expenses now, you may not be ready to lose the pay for the few weeks you'll be away. The solution to your dilemma is working remotely. 
Here's how to work remotely and travel: 
Find a remote job that suits your skills.
Ensure the income is sustainable.
Save and plan for your trip.
Choose a destination with income opportunities. 
Use your skill to create multiple streams of income.
Discover current income-generating trends. 
Learn new skills.
Have a work and travel mindset. 
Request for remote work.
Communicate with your colleagues and clients regularly.
Find coworking spaces.
Pack work items first.
Working remotely and traveling gives you the freedom to visit the destinations on your bucket list, and at the same time, earn a living. This article will discuss the details of working remotely, give you tips on how to get remote jobs, the types of jobs you can do remotely, and how to balance work and travel. 
1. Find a Remote Job That Suits Your Skills
The internet has made the world a global village. 
Today, you can work for a company located in a different country from yours without relocating. Many corporate companies have discovered that this saves them money and improves productivity in some cases.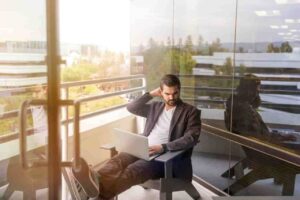 You can choose to look for a job that suits your specialty or one that will fit in with the set of skills you have acquired. 
For example, if you have great organizational skills, you can check online for organizations or businesses that need a virtual assistant. The job description may be similar to your current job, but you get to work remotely now. You can also follow these steps on how to get an entry-level remote job that many have had success with.
2. Ensure the Income Is Sustainable
Remote work is sometimes unpredictable, especially if your work is short-term. Look into the highest paying freelance jobs for steady income as an employment choice.
Having travel plans when you don't know about future income is risky. Fortunately, many remote-jobs, especially those of established organizations, are reliable. 
Most companies will discuss terms of employment, including the duration. 
This makes planning easier for both the employer and employee because hiring remote staff can also be time-consuming. Most of these organizations prefer long-term service to save time and money. If you meet your employer's requirements, you'll have a reliable income to sustain your travel lifestyle. 
You can also go a different route and contract jobs. Check out our epic guide on what is freelance writing that discusses all the opportunities in the field.
3. Save and Plan for Your Trip
Travel can be expensive, depending on your destinations, tastes, and preferences. Expecting future income to cover some of your current travel costs isn't a great idea. What happens when there are payment delays? What if you lose the job? 
Several things can go wrong, and you don't want this to happen when you cannot afford to pay your bills. 
Treat your remote work as you would any other regular job. Budget for your expenses, and at the same time, put some money aside for your next destination. Once you have enough saved up, you can travel as you keep working towards saving enough for the next destination. 
4. Choose a Destination With Income Opportunities
The draw of remote work is you can do with your time as you wish. Besides the opportunities for leisure, you can also use the time to make even more money. For example, some travel and news sites are ready to pay for real-time photo and video footage for events happening across the world. 
For instance, if you happen to be in Rio de Janeiro during the carnival, you can take photos and videos and sell them on stock photo websites. 
Some of the popular sites include Shutterstock, Fotolia, and Dreamstime.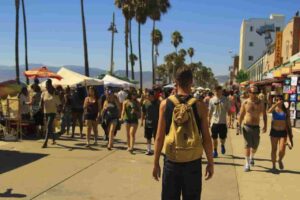 You can also check local businesses and the best work from home job boards that can benefit from your expertise during the period set aside for that destination. You can offer consultancy services at a fee. If you're lucky, some of these opportunities can become a contract-to-hire job or long-term, even as you move on to the other travel destinations on your list. 
Additionally, you can also follow this step-by-step process to find a remote job on LinkedIn as well.
5. Use Your Skill To Create Multiple Streams of Income
Travel is expensive, but it can also be affordable if you have multiple income streams. When working remotely, find ways to use the same skills to create passive income. 
For example, if you teach English online, you can write an ebook and sell it online. Market the book through your students and social media. Your book will also bring in some money as you continue with remote lessons. 
If you have a passion for creating 3D images, you can sell your work in various online stores, coach people interested in 3D printing, have a YouTube channel that gives reviews on 3D printers, and so much more. 
The benefits of telecommuting allow you to pursue additional opportunities. You can use your skill in so many ways to create channels for passive income. 
6. Discover Current Income-Generating Trends
The COVID pandemic brought to light some of the benefits of working remotely, and it opened up opportunities for people with expertise in different fields to start generating income online. 
For example, since travel is your core reason for working remotely, you can also work as a travel advisor for companies like Cruise Planners. Sometimes you may be asked to pay for the training to work as one of their travel advisors. 
If you're an expert and people stand to benefit from it, you can join sites where people seek advice on tackling some of the challenges they face. You'll then get paid for sharing your passion, knowledge, and time. 
An example is Clarity, a site that connects experts on startups. According to Harvard Business Review, 70% of startups fail because the entrepreneurs don't know the industry and have poor leadership skills. 
Many entrepreneurs seek guidance and knowledge from experts to help them navigate the challenges and make their businesses succeed. You can position yourself to provide the knowledge and expertise that people seek, but at a fee.  
7. Learn New Skills
Remote work can sometimes be intimidating, especially if you feel you have no skills to dive into the unknown. Fortunately, you can learn new skills at any point in life. YouTube and other websites have great resources in almost everything. 
Some industries are saturated, so you may find it difficult to find work as a beginner. However, this doesn't mean it's impossible. You might be lucky to find someone ready to give you a shot. 
You'll have an easier time developing and honing a skill in an industry you enjoy. If you enjoy creating content and social media marketing, you can follow the leads of the market leaders in your bid to boost your appeal to potential employers. 
8. Have a Work and Travel Mindset
When you first leave a 5-9 job to work remotely, it's easy to be overwhelmed by the time you have to do with as you please. You can now sleep longer, you can decide when to start working, and if your work took away your social life, this is the time to reclaim it. 
Unfortunately, as you play catch up, your work may suffer.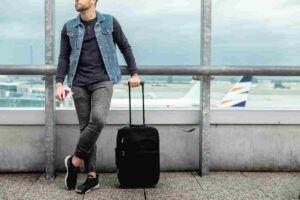 Having a schedule will help you to stay grounded. You need to decide when your working hours start and how long you'll work before taking a break. More importantly, you need to know when you are most productive. 
Knowing your most productive hours will help you develop a travel itinerary. 
For example, if you're more productive early in the morning, you should avoid scheduling leisure activities during these hours. Instead, plan for leisure during your unproductive hours. This way, you get to relax when your body demands it, and at the same time, work when you are most alert. 
9. Request for Remote Work
Asking your current boss and employer if you can work remotely may not seem like the best idea. However, you won't know how possible it is if you don't try. Most people assume that they'll have to quit their current jobs to work remotely and travel. 
Discuss your plans with your employer and assure them your productivity won't suffer. You can even request to put a timeline on it, say a 6-months trial period. If your productivity remains the same or improves, you may be allowed to continue working as you travel. 
10. Communicate With Your Colleagues and Clients Regularly
Remote work is a challenge because your presence can easily be overlooked, especially in a company where most staff work from the office. Instead of going quiet for weeks, you will have to manage a team remotely and ensure your presence is still felt. 
You don't want to be generically labeled as a dispensable employee simply because you want to work remotely. Communicate regularly, use an appointment scheduler, and be responsive in email and other correspondences. 
You don't want to lose the job supporting your travel lifestyle because you're not responsive.
11. Find Coworking Spaces
Working from your hotel room or hostel may not be ideal all the time. There are times when you'll need a change of scenery. Unfortunately, coffee shops and restaurants won't always be the suitable work environment when you travel. 
Coworking spaces have become popular the world over. 
You'll find the ideal working environment, and you also get the chance to interact with other people working remotely. You might discover work opportunities when interacting with people who share your interests and beliefs about work and travel. 
When you travel with the GlocalMe Portable WiFi (available on Amazon.com), you'll access the internet in more than 140 countries. It'll automatically select a local network, it doesn't require a sim card, and its 3000mAh battery can support up to 13 straight hours of use. 
12. Pack Work Items First
When packing for your trips, remember you're working remotely. 
If there are specific tools and gadgets that you need for work, pack them first so that you don't forget them. Have a list of items you need to pack, then follow the list to ensure everything is packed before leaving home.
The Matein Travel Backpack (available on Amazon.com) is a great anti-theft laptop bag with a USB charging port and water-resistant compartments. It's well-padded to protect your laptop, and the fabric is sturdy enough to withstand your movements.  
Top Necessities For Remote Work While Traveling Abroad
Let's face it, working remotely from another Country really is the best of both worlds. If you plan to work remotely abroad, there are a few important things that you must consider for success.
Check Your Data Plan
You must ensure that your internet connection doesn't run out of data when you're traveling. It takes a lot of data to run most online applications, so check your data plan with your service provider to avoid being cut off. 
Use VPNs To Avoid Censorship
You might find that some apps or websites are blocked when you're in certain countries. 
To get around censorship, use virtual private networks (VPNs) when they are restricted.
VPNs encrypt your traffic, allowing you to surf the web without restrictions.
Work on Cloud-Based Files
Most cloud storage providers allow users to sync files across devices and access them on any device with an internet connection. You can save your work and access it on the go.
Using Google Drive or Microsoft OneDrive, for example, will enable you to work from anywhere.
Make Use Of Offline Document Editors
Don't panic if the internet is out or your data plan isn't up to scratch! You can use an offline document editor instead.  
Google Docs, for example, will allow you to access and edit documents even when you're offline. This means that you don't have to worry about not working when you're away from a reliable internet connection.
Use Top-Of-The-Line Apps
You need top-of-the-line apps to communicate effectively with clients and colleagues.  
Use the Skype app when calling clients or colleagues so that you can hear and be heard clearly.
You can also use Slack to communicate with your team in real-time.
Zoom is another option. It's widely considered one of the best video chat apps because it provides high-quality sound and video without interruption.
You will have to learn all of the ways how to mute on Zoom if you hold large meetings online with clients. The best thing about some of these apps is that Skype and Slack are free! You don't have to pay a huge sum just to access them when you're on the go.
Your WiFi Device Must Be Portable
Your WiFi device must be portable and easy to carry around when you're traveling. 
The GlocalMe WiFi Hotspot is one such gadget, allowing you to share your internet with up to a max 10 devices at a time with just one SIM card. It also allows users to connect up to 40 devices with its 4G LTE network.
Traveling is fun, but working remotely can be challenging at times. With an effective internet connection and the right tools, though, you can work effectively from anywhere that has a stable power supply.
Best Jobs That You Can Do Remotely
Since you have 24 hours to do as you please, you can get as many jobs as you wish when working remotely. The pay differs, depending on the job opportunities, employers, and your skill level. 
Some of the best jobs available for remote workers include:
Software development
Speech therapy
Data entry and analysis
Information security
Financial Management
Financial Advisors
Research analysis
Digital marketing
Social media experts
As more businesses go online, more job opportunities are available for remote workers. Be sure to use these effective interview tips for remote job interviews if looking for a job. If you have the required skills set, you'll get the chance to work for some of the most sought-after employers and from any travel destination. 
World Travel Programs for Remote Workers
As more people adapt to remote work, several travel programs connect digital nomads. The itineraries and programs consider the work demands of remote workers, and at the same time, cater to their travel needs.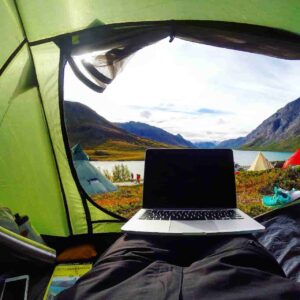 Some of the popular travel programs include:
Advantages of Travel Programs for Remote Workers
Travel programs have become quite popular with digital nomads. Some countries even offer special digital nomad visas to facilitate the travel plans of remote workers. There are several advantages to using the available travel programs for your travel plans. 
They include:
Travel with like-minded people. Travel programs for remote workers bring together digital nomads from various countries and different walks of life. You'll build connections and discover work opportunities from other remote workers. 
Travel programs cover all your work and travel needs. The travel packages offered in the different travel programs include accommodation, coworking spaces, WiFi, meals, recreation, and so much more.
Traveling with a group is cheaper. When you travel as a group, you share some of the costs. Shared costs include car hire, coworking spaces, and other utility costs. 
Long-term travel programs. Some of these programs last months, involving traveling to various travel destinations. You can concentrate on your work and travel adventures, at least for the program duration. 
It's easier to keep working when traveling with remote workers. The itineraries of travel programs are flexible enough to accommodate working hours. Members of the group can agree to be accountable to one another by setting aside hours in the day for work and leisure. 
Sessions for personal growth. Some travel programs offer personal growth and entrepreneurship lessons since you're building your business from the ground up. 
You can easily get a visa. Some companies make it easier for you to get a visa. These companies are known for organizing travel programs for digital nomads. You can easily get a visa to cover the duration of your stay at each travel destination. 
Brainstorm with experts. Travel programs will bring you together with some of the experts in your field. Learn how to grow your business, and overcome some of the challenges from others. 
Disadvantages of Travel Programs for Remote Workers
Although travel programs for remote workers have many benefits, there are some downsides. When deciding whether to join a travel program or make independent travel arrangements, you need to consider the pros and cons of group travel programs.
These disadvantages include:
Inflexible travel durations. The various travel programs last a week, a month, and others last four to six months. If you wish to spend a minimum of two weeks in a particular destination, yet the program is for a month, you may be forced to make individual travel plans. 
The destinations may not be to your liking. Some companies operate within a few countries. Some of these destinations may not feature in your bucket list. However, since you want to travel and network, you may be forced to take an unsuitable program.
Related Questions & FAQs:
How much does it cost to join a travel program?
The various travel programs have different costs. Some of the companies charge an admittance fee, while others charge monthly membership fees. The program's cost will depend on the specific travel package you're interested in. 
How do I join a travel program?
You can find programs online through an internet search, referrals from friends and business partners, or via other companies who offer work-travel programs. Contact a representative from the program you're interested in. Fill out the application form, and wait for an invitation to join. If there are no openings, inquire about when one will be available. 
How do I get a visa for the program?
You can get a visa once you've joined the travel program. Your representative will advise on how to get visas for each of the countries that form part of your itinerary. The process is usually more straightforward when joining a group program, such as with WorkAwayTravel.
What if I can't attend all the weeks of the program?
If you're already committed to other programs, such as conferences and face-to-face meetings elsewhere in the world, then it may be difficult to commit to a travel program. If you don't have any conflicting events, then you can sign up for any program that interests you.
Working Remotely and Traveling Summary
Many online job opportunities are available for remote workers. If you wish to work and travel, you'll undoubtedly find a company that'll be your perfect match. Travel programs for remote workers will allow you to interact with other remote workers. 
You may even discover more programs that'll bring additional income to sustain your travel lifestyle.