---
Today, more companies are offering entry-level remote jobs because employers have realized that their staff can be just as efficient if not more working from home and are more willing to accommodate remote work. Remote jobs allow great flexibility, better work-life balance and will enable you to be mobile. LinkedIn can be an effective tool for finding remote work.
Here are a few tips for finding a remote job on LinkedIn:
Narrow your search to remote jobs only.
Establish your online brand.
Build connections and relationships.
Join relevant LinkedIn groups.
Apply for the right jobs.
There is a lot of competition on LinkedIn, but there are many tools you can utilize to improve your chances and odds of finding a good remote job for you.
1. Narrow Your Search to Remote Jobs Only
LinkedIn has set up specific search tools to help you find remote work. Don't want to waste time looking at jobs that require you to be in the office.
Here are the steps to narrowing your job search to remote jobs:
At the top of your LinkedIn page, click the Jobs icon.
Click on the search jobs field and enter keywords or a company name.
Click the search location field and select remote from the dropdown.
Use the filters options which are located at the top of the search results page to filter the results.
After completing these steps, the only search results you will see are for remote jobs.
Know What Language To Look For
Although the LinkedIn remote work filter is a great tool, it is not perfect. Companies today are using lots of different terms to describe remote work. When searching for a job, you should know all the different ways companies refer to remote work.
Here are standard terms you should be aware of:
Distributed workforce
Work at home 
Virtual job
Work from anywhere
Agile workforce
To pick up on these terms, you'll have to pay close attention to the wording in the job listing. 
Avoid Remote Work Scams
Unfortunately, since remote work is such a sought-after role, there has been an increase in scam remote work job postings. Common scams include secret shopping, product testing, reshipping, and rebate processing. These scams can not only waste your time but can cost you money. Scams like these cost Americans millions of dollars each year. 
Here are red flags to be aware of in job postings:
The posting says things like "unlimited earning potential."
The job promises "quick money."
The application asks for personal financial information.
The job asks for upfront expenses from you.
You receive a job offer without interviewing.
If you see these red flags, do not apply and report them to LinkedIn or the Federal Trade Commission.
Set Up Job Alerts
Applying soon after a job is posted is one of the most effective ways to get your resume noticed. Instead of searching for new jobs every day, you can create job alerts on LinkedIn.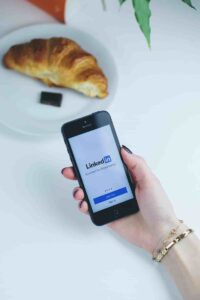 These alerts will help you stay updated on job postings that match your interests and skill set. LinkedIn allows you to choose whether you receive these alerts daily or weekly. You can also elect to have alerts come through email, app notifications, or both. 
2. Establish Your Online Brand
Almost all companies looking for remote workers are online and will have an active presence on LinkedIn. LinkedIn is often the first place hiring managers and recruiters look for qualified candidates. 
If you have a robust online presence, you increase your chances of being noticed. You can establish your online brand better with a few steps.
Complete Your Profile 
Complete your LinkedIn profile by filling in all the fields. Also, make sure that your profile is up to date. It would help if you had all of your work history with detailed descriptions available on your profile. It would be best to have a completed summary section and a professional headshot as your profile picture. 
Publish Valuable Content
One great way to make your profile more visible is to publish content. This can be personal stories, articles, book reviews, and more. Make sure this content is relevant to the types of companies you will be applying to. Providing relevant content will help secure a remote job on LinkedIn. Publishing content not only helps your profile stand out, but it showcases your expertise to potential employers. 
Ask Connections To Endorse Your Skills
LinkedIn has a feature that allows your connections to endorse your skills. These skills may be common, like effective communication and writing, or precise and complex, like composites mechanical engineering. 
When someone endorses you, their name appears on your profile along with the skill they have endorsed. They also have the option to provide a few sentences on why they endorsed you for this skill. 
Having endorsements from connections is an excellent way to prove that you have the skills needed for the jobs you are applying for. 
Take the LinkedIn Skill Assessments
LinkedIn provides a series of assessments that test your skills in a particular area. If you pass the assessment, you can earn a badge. This badge will be viewable on your profile and signals to hiring managers and recruiters that you are, in fact, proficient in this skill. 
Examples of skill assessments include:
Javascript
Python
R Programming
Adobe Acrobat
Microsoft Word
Microsoft PowerPoint
Adobe Photoshop
If you are proficient in these skills, earning an assessment badge is a great way to showcase your skills to potential recruiters.
Demonstrate Clealy That You Are a Good Fit for Remote Work
It is challenging for companies to find quality workers who can stay motivated and accountable at home. If you have previous experience working remotely, that is a great thing to highlight upfront on your profile and resume. If not, use terminology that tells hiring managers and recruiters that you are a good fit for remote work. 
List the Location of Previous Jobs As Remote
If you have held a remote job in the past, make sure you list the location as remote or virtual. Documenting the location this way will allow recruiters to determine right away that you have this experience in your background. Make sure you know how to mute on zoom and list it as a skill. The hiring manager will feel confident that you can handle the challenges with remote work. 
Highlight Experience Working With Remote Teams
Even if you haven't held a remote job in the past, you can highlight experience working with colleagues in a different location than you. If you have been in management, detailing how to manage a team remotely would be great experience to note.
Highlighting these experiences shows that you can still communicate effectively even when not in the exact physical location. This is an attribute that recruiters will be looking for when hiring. 
Include Experience Working With Diverse Teams
Remote teams are often diverse, with employees spread out across different time zones and with different backgrounds and life situations. Showcasing that you've successfully worked with a diverse group of colleagues will instill confidence in the recruiter.
Take Initiative
Since you won't have face-to-face time when applying for remote jobs on LinkedIn, it is essential to stay motivated and keep yourself relevant.
If you want to find a remote job on LinkedIn, you should be on LinkedIn every day engaging with people, creating content, and showcasing your skills. You can even offer your expertise for free on a volunteer basis. You should also attend free seminars, workshops, and training to stay active and continue to learn while job searching.
3. Build Connections and Relationships
To find remote work on LinkedIn, you should use the site as a networking tool and invest time in building relationships. Having a network of professional colleagues may help you hear of an opportunity down the road. You can expand you network with a few steps.
Make Connections
Connections are similar to "friends" on Facebook or other social networking sites. They are people you've worked with, gone to school with, or know from another part of life. You can connect with them by hitting the connect button on their profile. 
Once connected, they will appear in your connections list, and the two of you can communicate on LinkedIn's internal messaging service. An excellent place to start when making connections is former co-workers and former classmates or people who went to your school. 
There are several additional ways to make connections on LinkedIn:
Import contacts using their email address.
Utilize the "People you may know" feature.
Ask mutual connections to help you connect.
Find connections through searching keywords like "communications professional."
Having a solid list of connections may help you find a remote job on LinkedIn and make your profile look more professional.
Reach Out to Recruiters
An effective strategy for finding remote work on LinkedIn is reaching out directly to recruiters. It is relatively easy to find recruiters in charge of hiring for roles you are interested in; sometimes, their contact info will even be listed on the job posting. 
You can send a personalized message to the recruiter expressing interest in a particular role or company. Even if a company isn't hiring for a position you are interested in at the moment, it is still a good idea to establish a connection with the recruiter. You can state that you are interested in a contract-to-hire job as well. This way, they may keep you in mind when a future opportunity does open up. 
Follow and Engage With Companies You're Interested In
Your activity on LinkedIn says a lot about your profile and what you are looking for. One component of your activity is your engagement with companies. Examples of engagements are liking, commenting on, or sharing a company post. 
This engagement will also show the company that you are active and interested in working with them.
Ask for Meetings and Informational Interviews
An effective way to build meaningful connections is to ask for informal meetings and informational interviews. Asking for these meetings can be as simple as messaging alumni from your school and asking if they can meet with you to tell you about their jobs. 
Usually, professionals are more than happy to meet with you and give you advice. You can also ask companies for informational interviews. Informational interviews are becoming rarer due to time constraints on recruiters, but it can't hurt to ask. 
Informational interviews are an excellent way to prepare for future interviews and find out more about companies you are interested in.
4. Join Relevant LinkedIn Groups
Joining relevant niche LinkedIn groups is a great way to connect with like-minded professionals and stay up to date on the latest developments in your field. The groups may contain a mix of people in your industry, including fellow job-seekers, seasoned professionals, and recruiters. 
Remote Workers LinkedIn Group
The Remote Workers on LinkedIn group has over 30,000 members. They publish weekly updates like their #HiringRemote job thread, posting remote job opportunities. 
Members also share tips for remote work, such as getting noticed for a promotion and maintaining relationships with remote colleagues. This is a great place to start to stay up to date on remote jobs on LinkedIn.
University LinkedIn Groups
Securing a remote job on LinkedIn will require networking. Most universities have LinkedIn groups to connect students and alumni. This is a great place to connect with people who have shared experiences. You will immediately have something in common with every member of the group. 
In addition, hiring managers may favor potential employees who went to their school. Similarly, alumni who hear of new job opportunities often share it first with their alumni groups.
Industry Groups
You can also join industry groups on Linkedin such as engineering groups, business management groups, or writer groups. These groups are a great resource to learn about critical developments in your industry, free training, and remote job opportunities. Almost every industry has a group where professionals in that field come to connect. 
There are also sub-groups within professions that bring together smaller groups where it can be easier to get to know one another.
LinkedIn groups are great ways to make connections and stay in the know, but remember to be mindful when engaging in these groups. Keep it professional and maintain a good balance of contributing to the group and asking for help.
5. Apply for the Right Jobs
Applying for the right jobs is critical to finding a remote job on LinkedIn. You want to apply to jobs that are a good fit for your skillset. The last thing you want to do is waste your time applying to jobs you are not qualified for.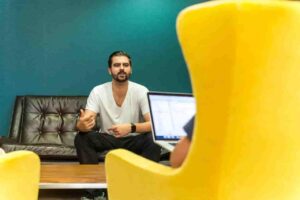 Applying to these types of jobs is a waste of both your time and the company recruiter's time. Submitting an unqualified application may even hurt your future chances of gaining employment with a company.
Apply for Jobs for Which You Are Qualified 
The number one question you should ask yourself when looking at a job posting is: Am I qualified for this position? Read through the job qualifications carefully and use good judgment in determining whether your skillset is a good match. 
There will never be a job that matches your previous experience 100%, and that's okay. If you meet most of the qualifications, you are probably a good candidate. It is important to remember that companies often post aspirational job postings. This means that as long as a candidate meets most of their requirements, they are a good fit. 
If you are unsure, you can always get a second opinion. Ask your family, friends, or professional connections whether your skillset is a match for the job.
Apply for Jobs That Clearly Indicate Remote Work
One common mistake job seekers make is applying to jobs that don't indicate remote work and hoping that the company will allow them to work from home. This can be a fatal misstep that can damage your reputation as a professional. There are differences between remote work vs. work from home jobs.
Before posting them, companies have thought out the job requirements and are unlikely to change the criteria. Read the job postings carefully. If a company hires for a remote position, it will be apparent. 
Apply to Jobs Where You Can Utilize a Referral
When applying for a job on LinkedIn, you can ask for referrals from your connections who are employed at that company. Referrals are simply a tool that lets a recruiter or hiring manager know that someone in the company has referred a candidate. When connections receive a request for a referral, they can respond quickly through LinkedIn. 
Referrals can be a powerful tool because it shows the company that a professional in your field is willing to vouch for you. 
It is essential to be professional and thoughtful when asking for referrals. Reserve your asks for people you know well, and don't make a habit of requesting referrals constantly.
Important Related Questions for Remote Job Seekers on LinkedIn:
What are some of the best groups to join on LinkedIn for job seekers?
Groups are a great way to make connections and stay in the know, but remember to be mindful when engaging in these groups. Keep it professional and maintain a good balance of contributing to the group and asking for help. Group participation is essential for finding a remote job on LinkedIn.
What type of jobs should I apply for?
Apply for jobs that are a good match for your skillset. It is important to remember that companies often post aspirational job postings; as long as you meet most of the qualifications, you are likely a good candidate.
What type of jobs allow referrals?
This can vary widely based on company policy, but it is usually best to look at jobs where the hiring manager or recruiter will be able to vouch for you with their own words. You can also ask directly in your application if referral information will be included.
What should I do after applying for my first remote job?
It's all about building relationships. Connections make up an integral part of LinkedIn, so reach out and engage with potential employers and industry professionals. Building a rapport will help you stand out and highlight your skillset as a candidate for the company's open positions.
Additionally brush up on video interview tips for remote job interviews for best chance of success.
Do I need to list my salary history?
Your salary history is usually not listed on your LinkedIn profile, so you don't need to include it when applying for remote jobs. Focus on finding companies where you can excel without the salary being a determining factor.
Conclusion
There's never been a better time to find a remote job on LinkedIn. Employers are posting a record number of remote jobs, and work from home is now part of the mainstream workforce. With a bit of effort, you can stand out and find success.
Here's a quick recap of the best ways to find remote jobs on LinkedIn:
Narrow your search criteria to make the most of your time.
Create an established online brand for yourself.
Leverage existing relationships and build new ones.
Become a member of several LinkedIn Groups.
Apply for jobs that align with your skillset.