This post may contain affiliate links to products that I recommend and I may earn money or products from companies mentioned in this post. Please check out my disclosure page for more details.
---
Do you want to be a graphic designer? It's a great career choice, but how long does it take to become a graphic designer? In this blog post, we will discuss the education and training required to become a graphic designer.
We will also talk about the different types of jobs that are available in this field. So, if you're interested in becoming a graphic designer, keep reading!
Who Is a Graphic Designer?
A graphic designer is someone who uses creativity and artistic skills to communicate messages visually. They use a variety of design elements to create attractive and effective designs.
Graphic designers work with media types such as text and images. They often select the typeface, size, arrangement, and color of the text. In addition, they may design logos, illustrations, posters, product packaging, and website graphics. A bachelor's degree is usually required by employers in graphic design or a related field.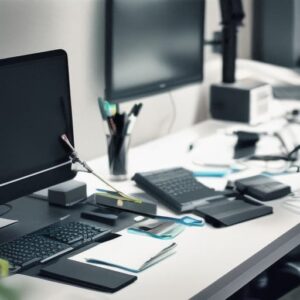 Graphic designers typically need to be able to think creatively to come up with new design concepts. They should also have strong communication skills to explain their ideas to clients and coworkers. In addition, they need to be detail-oriented to produce high-quality work.
Graphic designers typically work in an office environment during regular business hours; however, they may need to work additional hours to meet deadlines. Some graphic designers are self-employed and work from home.
How To Become a Graphic Designer
Anyone with an eye for aesthetics and a love of art can become a graphic designer. However, it takes more than just raw talent to be successful in this field.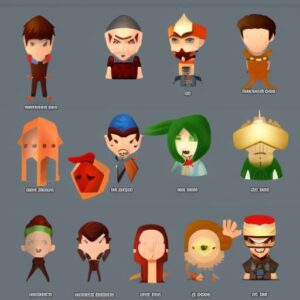 Graphic designers need to be skilled in using various design software programs, such as Adobe Photoshop, Adobe Creative Cloud, and Illustrator. They must also have a good understanding of color theory, typography, and composition.
Here are some ways to become a graphic designer:
Find Your Niche
As a graphic designer, it is essential to find your niche. This helps you to become an expert in the graphic design industry and develop a strong reputation in your graphic design career.
When you specialize in a certain area, you can learn all the ins and outs of that area and become an authority on the subject. This not only makes you more knowledgeable but also more trusted by potential clients.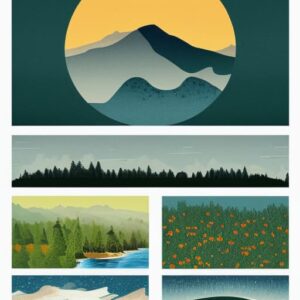 Furthermore, developing a specialty allows you to be more efficient and effective in your work. When you know exactly what you're doing, you can work faster and produce better results.
Finally, finding your niche gives you a sense of direction and purpose. It can be easy to get lost in the vast world of graphic design, but specializing in a certain area helps you to focus your efforts and hone your skills.
As a result, finding your niche is an important step in becoming a successful graphic designer.
Educate Yourself
Educating yourself is important if you want to become a graphic designer. It not only gives you the graphic design skills and knowledge you need to be successful in the field, but it also helps you to stand out from the competition. There are a few ways to educate yourself in graphic design.
First, you can take a graphic design course or earn a degree from a college or university. This will give you a comprehensive education in the subject and help you to develop your skills.
You can also learn through online resources, such as tutorials and articles. This can be a great way to learn at your own pace and gain practical experience.
While formal training is not required to become a graphic designer, many successful designers have earned a bachelor's degree in this field or a course related to it. There are also many professional organizations, such as the American Institute of Graphic Arts (AIGA), that offer certification programs and provide resources and networking opportunities for designers.
Finally, you can attend workshops and seminars, which can provide you with valuable graphic design education from experienced professionals. Whichever method you choose, educating yourself will help you to become a better graphic designer.
Get a Mentor
When students are considering a career in graphic design, they may wonder how they will ever learn all of the necessary skills in graphic design. For many people, the best way to learn is by working with a mentor.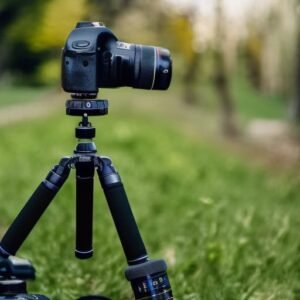 A mentor is an experienced professional who can teach a mentee the ropes and help them avoid making common mistakes. In addition, a professional graphic designer can guide you on things like building a portfolio, networking opportunities, and finding job opportunities.
Mentors can also be a great source of inspiration, helping their mentees to push themselves creatively. As a result, working with a mentor can be an invaluable experience for anyone wanting to become a graphic designer.
Build Your Portfolio
As a graphic designer, having a strong portfolio is essential to showcase your skills and getting hired by potential clients. A portfolio allows you to collect your best work in one place and share it with others easily.
It also demonstrates your range as a designer and shows off your unique style. Additionally, having a portfolio gives you a way to keep track of your progress over time and see how far you've come. As you add new pieces to your portfolio, you can see the growth in your skills and abilities.
Finally, having a portfolio can help you get feedback from other designers and potential clients. By sharing your work and getting constructive criticism, you can improve your designs and better market yourself as a graphic designer.
Overall, having a portfolio is an invaluable tool for any graphic designer who wants to be successful in their field.
Network
As a graphic designer, networking is essential to your career. By meeting other designers and sharing your work, you can not only get feedback and critiques but also find inspiration for new projects.
In addition, networking can help you to find new clients and customers. By sharing your portfolio with others, you can show potential clients what you are capable of and generate interest in your work.
Finally, networking can simply help you to stay up-to-date on trends in the design world. By attending events and keeping in touch with other designers, you can ensure that you are always aware of the latest innovations in your field. In short, networking is essential for any graphic designer who wants to be successful.
How Long Does It Take To Become A Graphic Designer?
There's no one-size-fits-all answer to this question, as the amount of time it takes to become a graphic designer can vary depending on several factors, such as:
1. Level of Education
How long it takes to become a graphic designer largely depends on the level of education one obtains. Someone with only a high school diploma may be able to find an entry-level job in the field, but they will likely need to complete on-the-job training before they can work independently.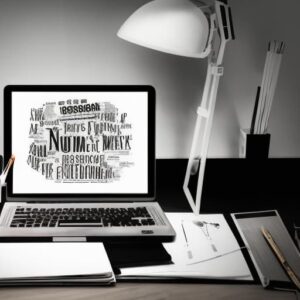 On the other hand, someone who has completed a post-secondary program in graphic design will have the skills and knowledge necessary to begin working immediately. In general, the higher the level of education, the shorter the amount of time it will take to become a graphic designer. I've listed more specifics in the education and courses section below.
2. Level of Experience
There is no one straight answer to this question, as the level of experience needed to become a graphic designer can vary depending on the individual. However, it is generally agreed that it takes quite a bit of experience to become a successful graphic designer.
This is because graphic design is all about creating visual communications that are both effective and appealing. It takes an experienced designer to be able to understand how to use color, shape, and other elements to convey a message in an impactful way.
In addition, experienced designers also have a better understanding of the latest software and technologies, which is essential for staying ahead of the competition. While there is no set amount of experience needed to become a graphic designer, it is generally agreed that it takes quite a bit of experience to become successful in this field.
For instance, if you already have experience with design software and are familiar with the basics of color theory and composition, you may be able to complete your training in a shorter time frame. On the other hand, if you're starting from scratch, it may take longer to develop the skills you need to be successful in the field.
In general, though, most people who want to become graphic designers can expect to spend several years honing their craft. After completing a formal education in graphic design, many designers choose to supplement their knowledge with internships or entry-level jobs at design firms.
These experiences can allow designers to put their skills to use and learn from more experienced professionals. With dedication and hard work, it is possible to build a successful career in graphic design.
3. Natural Ability and Aptitude
There is no one answer to the question of how long it takes to become a graphic designer. While some people may have a natural aptitude for design, others may need to put in more time and effort to hone their skills.
In general, however, it is important to remember that becoming a graphic designer is not simply a matter of learning how to use graphic design software or a graphic design program. Rather, it is a process of developing an eye for aesthetics and learning how to use design principles to create visually appealing and effective designs.
As such, the amount of time it takes to become a graphic designer will vary depending on the individual. Some people may be able to develop their skills relatively quickly, while others may need more time to experiment and perfect their techniques.
Ultimately, though, becoming a graphic designer is about more than just acquiring technical skills; the graphic design process is also about learning how to see the world through the lens of a designer and developing a creative vision.
Recommended Courses and Programs to Become a Graphic Designer
There are numerous courses and programs that can help equip you with the knowledge and skills needed for this career.
Online Courses
One of the best ways to get started in your journey as a graphic designer is by taking online courses. These range from beginner-level classes to more advanced topics like color theory or typography. Here's a list of some popular online courses for aspiring graphic designers:
Introduction to Graphic Design by Adobe Creative Cloud
The Ultimate Guide to Color Theory by Skillshare
Typography & Layout Design by Udemy
Principles of Design by LinkedIn Learning
Software Training Bundle by Pluralsight
Bootcamps
Graphic design boot camps offer immersive, accelerated learning experiences that teach students the fundamentals of design in weeks rather than years. They usually include live lectures, project demos, career counseling, and ongoing job placement services. Some popular boot camp programs include General Assembly's UX/UI Design Immersive Course, Flatiron School's UX/UI Design Course, and Hack Reactor's Software Engineering Immersive Course.
Certifications & Degrees
For those who want additional credentials in their portfolio, certificates or degrees can be obtained through various colleges or universities worldwide. For example, Certificate IV in Graphic Design at TAFE Digital (Australia), Bachelor of Fine Arts at the Minneapolis College of Art & Design (USA), or Master of Arts – MA Graphic Communication at the University for the Creative Arts (UK).
Additionally, certifications such as Adobe Certified Expert can also be earned upon successful completion of an official exam from Adobe Systems Incorporated.
The Benefits of Obtaining Adobe Certified Expert (ACE) Certification
The Adobe Certified Expert (ACE) certification is a great way for graphic designers to validate their design skills and demonstrate expertise in the use of Adobe products. With an ACE certification, graphic designers can prove they are capable of creating high-quality work, making them more marketable and in demand. Here are some of the benefits of obtaining ACE certification:
Recognition
The ACE certification provides recognition that you have achieved a certain level of proficiency with Adobe products. This will give your clients and employers assurance that you possess the necessary skills and knowledge to design effective and creative works.
Professional Credentials
Having an ACE certification shows potential clients or employers that you are a certified professional who is committed to staying up-to-date with industry standards. This will give them confidence when hiring or working with you. Additionally, the credentials earned from this certification can help improve your credibility as a designer.
Career Advancement
Having an ACE certification can also be beneficial for career advancement opportunities such as promotions or new job opportunities. It gives employers assurance that you possess valuable skills that could benefit their business or organization. Overall, obtaining an ACE certification is beneficial for those looking to become proficient in using Adobe software, gain recognition in their field, further their career path, or obtain professional credentials. After taking a qualifying exam and passing with 80% or higher – you can join the ranks as an official Adobe Certified Expert.
Jobs Available in Graphic Design
Graphic design is a field with a wide range of job opportunities. From creating billboards and website designs to developing logos and product packaging, graphic designers play a vital role in the modern world.
Here are 10 jobs that are available in the graphic design field:
1. Art Director
An art director is responsible for the overall visual style of a project. They collaborate with other designers, illustrators, and photographers to create a cohesive look.
2. Graphic Designer
A graphic designer creates designs, mainly visual concepts. This is done by hand or computer software. The focus is to communicate ideas that inspire, inform, or capture the attention of their audience.
3. Illustrator
An illustrator creates images that help tell a story or convey information. They may use traditional media such as pencils and paints, or they may work digitally.
4. Infographic Designer
Infographic designers use visual elements to communicate complex data or ideas in an easily understandable way.
5. Motion Graphics Designer
Motion graphics designers create animated graphics for use in video and film productions. They often work with editors and directors to create graphics that match the tone and style of the project.
6. Packaging Designer
Packaging designers create visual designs for product packaging, such as boxes, bottles, and cans. They must take into account the size and shape of the packaging as well as the needs of the customer.
7. Photorealistic Renderer
Photorealistic renderers create images that look like photographs but are generated by computer software. They often work in advertising and marketing to create realistic product visuals or stunning landscapes.
8. Social Media Manager
Social media managers oversee an organization's social media presence, including posting content, responding to comments, and managing promotions or campaigns.
9. User Interface Designer
User interface designers develop the look and feel of an app or website, including how users will interact with it emotionally and physically. They must take into account both function and aesthetics when designing user interfaces.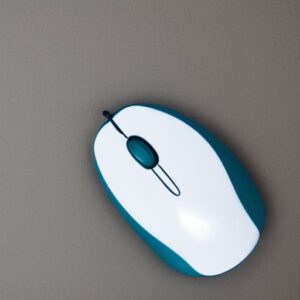 10. Web Designer
A web designer creates visual designs for websites. They must have an understanding of user experience principles to design effective sites that meet users ' needs. The benefits of telecommuting make this a great freelance employment choice.
As you can see, there are many different types of jobs available in the field of graphic design. Whether you're interested in creating logos or developing animations, there's sure to be a position that's right for you.
Final Words
In conclusion, becoming a graphic designer takes time, effort, and practice. However, it is a rewarding career that offers many opportunities for creativity and self-expression.
If you're passionate about design and want to make a difference in the world, then graphic designing may be the field for you.