---
Pinterest management is one of the most fun and fulfilling careers you can pursue if you're a creative person. And depending on how you go about it, it can be rewarding, too, because many businesses have realized the potential upside of investing in Pinterest marketing.
Many of the skills you need to be a freelancer also align with becoming a freelance Pinterest manager. But while the high demand and benefits of a career in Pinterest management are there for all to see, not many know what it takes to become a successful Pinterest manager.
Here's how you can become a Pinterest manager:
Study up on Pinterest management.
Gain verifiable experience.
Build a website.
Market your services.
Target companies that might need your services.
Read on for an eye-opening discussion as I walk you through each of these steps and provide handy tips for each to help you kickstart a career as a Pinterest manager.
What is a Pinterest Manager?
Before knowing how to become a freelance Pinterest manager, let's first define what is a Pinterest Manager.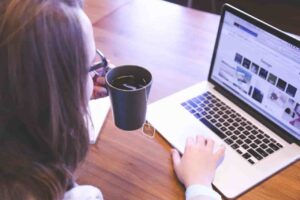 A Pinterest manager is someone who helps and assists businesses leverage the potential of Pinterest for marketing and branding purposes. They help businesses create and curate pins, boards, and groups; develop campaigns; manage Pinterest accounts; and track results.
Pinterest Management Requirements
While there are no specific prerequisites for becoming a Pinterest manager, having some basic knowledge of social media marketing, design, and business would be beneficial. In addition, it's important to have a firm understanding of Pinterest's features and how they can be used to achieve marketing goals.
Experience in either social media or graphic design is also a plus. If you don't have any formal experience, don't worry. We've got tips in this guide on how you can gain the required skills and transition to working for yourself in this field.
What Services Should I Offer as a Pinterest Manager?
There are many services you can offer as a Pinterest manager. Here are some of the most common services for Pinterest manager packages:
Creating and curating pins
Developing pinning strategies
Managing Pinterest accounts
Tracking results
Offering consulting services
You can decide to charge by the hour or by the project. It's important to come up with a pricing structure that suits your skills and experience and that also meets the needs of your clients.
Many companies may prefer a monthly Pinterest management package in order to ensure that their Pinterest account is constantly being monitored and updated with fresh, relevant content. As a Pinterest manager, it's important to be proactive in your approach and always be on the lookout for new trends and opportunities on Pinterest.
How Much Do Freelance Pinterest Managers Make?
If you're asking how much a Pinterest manager makes as a consultant, it really depends on the level of experience and skills they bring to the table. Generally speaking, most Pinterest managers charge anywhere from $25 to $75 per hour. It's not uncommon for some freelance Pinterest managers to make over $10,000 per month.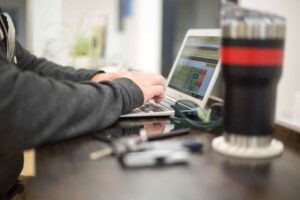 How to Become a Pinterest Manager for Hire
Now that we know what is a Pinterest Manager, let's discuss how you can become one.
1. Study Up on Pinterest Management
One of the most common mistakes aspiring Pinterest managers make is assuming they know all about Pinterest because they've been using the platform for pleasure. The problem with that assumption is that using Pinterest for business isn't exactly the same as repinning a trending Taco Salad recipe.
Optimizing a business Pinterest account to increase traffic, generate leads, and turn those leads into paying customers is an entirely different ball game requiring specialized skills. That's why the first step in your quest to become a Pinterest manager should be to learn as much as you can about the platform.
There are two ways to go about gaining the skills you need: 
Go online and learn from content blogs and YouTube.
Enroll in a Pinterest management course. 
The first option is ideal if you're cash-strapped and don't mind learning in a non-structured way. The drawback is time as it can take a bit longer because you'll have to assemble bits of information from different sources. It's also easy to find yourself learning irrelevant things.
The second option is faster because all the information you need is packaged and formatted in an easy-to-consume manner. And since it's structured, you have minimal chances of wasting time learning irrelevant stuff unless you choose a poorly designed course. On the flip side, you may need to part with some money because the best courses are rarely free. 
If you choose to learn independently, your biggest challenge will know which topics to focus on. To help you out with that, here's a list of the most critical knowledge areas for any aspiring Pinterest manager:
How to enable rich pins.
The intricacies of managing a business profile on Pinterest.
Confirming a website through Pinterest.
Optimizing Pinterest, profiles, pin descriptions, and images for SEO.
Creating high-quality Pinterest boards.
Finding and joining group boards. 
How to perform and make sense of Pinterest analytics.
Scheduling Pinterest pings using Boardboost, Tailwind, and other similar tools. 
Regarding where to find all this information, Pinterest's free resources are a great place to start. 
Here, you'll find the essentials to get you up to speed quickly, alongside free courses to grow your expertise and a community of creators and businesses with which to exchange ideas. Alternatively, look for free courses on other platforms like Udemy. 
2. Gain Verifiable Experience
Learning skills you need to become a Pinterest manager is merely one-half of what you need to do before you begin looking for clients. The other half is gaining some experience, so you'll want to get on that as soon as you're done learning. 
Clients want results, and the best way to prove that you have what it takes to raise their business to the next level is to showcase what you've done in the past. 
Here's where it gets tricky; you need to get your first client to gain some experience, which can be difficult when you have nothing to show that you've actually done what you're promising in your pitches. 
Luckily, there are a couple of ways to get around this hurdle.
The first one requires a friend with a business account. 
If you have such a friend, try getting them to let you practice what you've learned and then collect data to document your achievements. Better yet, use that data to create a case study that you can showcase to your future clients. 
If you don't have a friend, open your own business account and build it up from scratch, documenting every important statistic along the way. As time-consuming as this can be, it's one of the best ways to show potential clients that you can take business accounts from zero to a hundred. Why? Because more often than not, this is precisely what many clients will want you to do for their businesses.
You can also search Fiverr to make money on Fiverr as a Pinterest manager. While this will be lower pay, you can gain experience this way. Be sure to check out opportunities to make money on UpVoice as well.
Alternatively, volunteer and collect data for a case study or ask for reviews or recommendations at the end of the volunteer program. Who knows, maybe the client you volunteer to help out may turn out to be your first.
The bottom line is, do whatever it takes to gain experience that you can present to clients when pitching. Don't just let the fact that most clients prefer some experience hold you back.
3. Build a Website
A website might not be a necessity if you're eying formal employment as a Pinterest manager. A well-crafted resume and verifiable experience may be enough to land you a job.
But if you're looking to become a freelance Pinterest manager, building a website is a critical step. A well-designed website serves several purposes to fast-track your journey to becoming an established Pinterest manager with a vast clientele.
First off, it instantly adds credibility to your pitches by making your look professional. It also acts as your online "office" that potential clients can visit to learn about:
Your services
Who you've worked with in the past years and what results you drove
What your past clients say about you
Your rates
Who you are as a person
Pretty much anything else you'd like a potential client to know
Additionally, a well-optimized site can help you get clients organically. By "organically," I mean having clients look for you and not the other way round, all without cold pitching. As much of a dream as that might sound for someone getting started on Pinterest management, it's virtually a way of life for the most successful freelance Pinterest managers.
However, getting clients organically doesn't happen overnight. It takes a lot of work that mainly revolves around optimizing your site and content for search engines. If you're getting started and don't have much cash to work with, you don't necessarily need to focus too much on that because you'll likely need to hire someone to optimize everything for SEO.
Getting clients organically should be a long-term goal that you pursue after you've built yourself up and made some money. But if you have the cash to hire an SEO expert from the start, then go ahead and do that: it'll fast-track your progress. Make sure to use an appointment scheduler for freelancers for client bookings.
Regarding how to go about building your website, I strongly recommend hiring an expert website designer. The results will be way better than anything you can build with "pick a theme and go" platforms (unless you're skilled in web design). What's more, you don't want your website to look like hundreds of other sites built using the same theme.
What if you can't afford a professional web designer?
First of all, don't give up or put launching a website on hold until you have enough money to pay a designer. Go to the "pick a theme and go" platforms and build a simple website to the best of your skills and knowledge. It's better to have a sub-par website than to have none. 
Tips to improve the quality of your DIY website:
Get inspiration. Go to a competitor's website, take note of the structural elements of their website, and use these as a general guideline for your website's structural outline.
Choose a user-friendly website builder. A quick search on Google will give you tons of options, so I won't list the various website builders here. What I'll do is give you a recommendation so you don't spend too much time choosing a website builder when you should be building one. I recommend Wix.com because it's free, user-friendly, and provides more customization options. 
Learn how to build a website. YouTube can be very helpful here, provided you get a video that covers this topic comprehensively. 
4. Market Your Services
Having learned enough about Pinterest management, gained verifiable experience, and built your website, you're all set to start marketing yourself. The way you market yourself is arguably the biggest determinant of the level of success you'll enjoy as a Pinterest manager. That goes for both freelance managers and those looking to secure formal employment. 
There are several ways to market yourself, each with varying levels of success. Here are some of the most effective ways to prospect for clients as a Pinterest manager:
Reach Out to the People Around You
"Around you" doesn't necessarily mean "in close proximity." Instead, it means all your contacts, from close friends and family to ex-colleagues and friends of friends. Get in touch with them and find out if they're looking for a Pinterest manager. Even if they're not, they might connect you with someone who needs your services, so it's worth a shot.
Join Social Media Groups that Connect Clients to Freelancers
Marketing is all about getting your services in front of potential clients, and groups like Virtual Assistant Hiring can be very helpful in that regard. In this particular group, you'll find plenty of businesses looking to hire virtual assistants. 
While you might not come across many job adverts titled "Pinterest manager," getting a VA job from this group can be a stepping stone to an illustrious career in Pinterest management. Remember, Pinterest managers are essentially virtual assistants who have scaled up.
Cold Pitching
Cold pitching involves sending proposals to businesses that seemingly need your services. It can be an effective way to source clients as long as each pitch is customized to the specific client's needs and presented in the right language (we'll go deeper into this shortly, hang in there).
Use LinkedIn
Linkedin can also be another source of potential clients and formal job opportunities. This social platform is one of the best work-from-home job boards around.
Start by optimizing your profile, and then use keywords such as:
I need a Pinterest VA
Hiring Pinterest Manager(s)
Pinterest Managers wanted
Pinterest Management
Anything else along those lines. 
As long as you plug in the right keywords, you'll get a few leads because many clients use LinkedIn to hire freelancers and long-term employees in virtually every specialty.
Use Job Boards
Platforms such as Indeed, Upwork, Hubstaff, and Flexjobs are constantly updating their job listings. At the time of writing, simply searching "Pinterest manager jobs" on Indeed brought back 68 results, a number I believe could be higher if I used more keyword combinations. 
Pinterest manager jobs on Upwork are also plentiful, as are Hubstaff and Flexjobs.
So as you send your cold pitches, reach out to friends, and join social media groups, don't forget how valuable job boards can be.
Use Your Website to Generate Organic Leads
In addition to the above strategies, you can also generate organic leads through your website. But as mentioned earlier, this will take time.
A quick tip: Consider using job boards, LinkedIn, and social media platforms to find businesses actively looking for your services and then send them a "cold pitch."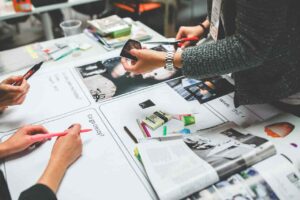 5. Target Companies that Might Need Your Services
Another way to find clients is to target companies that you feel need your skillset. This can be a more daunting task than the others, but it's often worth it because these companies are already looking for someone with your qualifications.
Wondering how to find companies that need a freelance Pinterest manager?
Well, there are ways to do it:
1. Use LinkedIn Advanced Search
LinkedIn's Advanced search is an incredibly powerful tool that lets you search for companies by location, company size, and even the number of employees they have. This is a great tip how to find a remote job on LinkedIn for seekers.
Once you've found a company that meets your criteria, reach out to their HR department or hiring manager and introduce yourself as a Pinterest manager.
2. Use Google Alerts
Google Alerts is another great way to find companies that need your skill set. Simply set up an alert for the keywords "Pinterest manager" and Google will send you an email every time it finds a new company that matches your criteria.
3. Use Social Media
Finally, you can use social media to find companies that might need your services. For example, if you're a Pinterest manager, you can search for hashtags like "#hiringpinterestmanager" on Twitter. This will bring up tweets from companies that are actively looking for someone with your skillset.
Pitching Tips To Increase Your Chances of Landing a Client
More often than not, the difference between a cold pitch that ends up in the spam box and one that lands a client is that the latter is:
Customized to client's needs and pain points
Presented a solution to a specific problem with which the client is currently grappling
There are several ways to tick these two boxes with every pitch you make, the first being avoiding pitching templates. Sure, having a ready-to-go template can speed up cold pitching. However, it can also make your pitch look generic and non-targeted to the client's needs and pain points.
How Do You Know What Are "Client Needs"?
In a word, research. Before you write a pitch, take your time to understand each client's business and then develop a proposal centered around what you can do to improve it. 
Here's an example of how to do that:
Suppose a client already has a Pinterest account that's not performing to maximum potential. Having learned what works and what doesn't as far as Pinterest management goes, you go through the account, noting areas that need improvement to boost the businesses' online presence. These are the client's needs, challenges, pain points, or any other name you prefer and will need to be captured in your pitch.
But your pitch isn't all about telling prospects what they're doing wrong. It also presents potential solutions and demonstrates why you're the best person to provide them. 
How Do You Target Client Needs?
So after identifying the pain points, you use your expertise and knowledge to come up with several pin ideas and include these in your pitch. You go beyond merely listing them, explaining how they can help patch up the holes in the client's Pinterest marketing strategy to drive specific results (e.g., increasing traffic, boosting conversions, etc.).
To tie everything up, you include a few case studies showing how you tackled a similar problem, alongside client testimonials.
A pitch structured this way is much more likely to generate leads because it's centered around the client and backed by evidence of why you're uniquely qualified to provide value to them.
Are Freelancer Pinterest Managers Successful?
Freelance Pinterest managers are in high demand, and for good reason. Pinterest is a powerful social media platform with over 175 million active users, making it a great way to reach potential customers.
How To Land Clients as a Pinterest Manager
If you're a freelance Pinterest manager, there are several things you can do to increase your chances of landing clients:
1. Develop a strong online presence.
Make sure that your social media and website profiles are professional-looking and well-maintained. This will help prospective clients see that you're serious about your business and have the skillset they're looking for.
2. Specialize in a specific niche.
Trying to be a "jack of all trades" when it comes to Pinterest management won't help you stand out from the competition. Instead, focus on specializing in a specific niche (e.g., fashion, food, travel, etc.) and develop expertise in that area.
3. Stay up to date with Pinterest trends.
Pinterest is constantly evolving, so it's important to keep up with the latest trends and changes in order to provide value to your clients. Tools like the Pinterest Trends tool can help you do this.
4. Offer value-added services.
In addition to Pinterest management, offer additional services such as social media marketing, content creation, or even web design. This will show clients that you're able to provide a comprehensive solution that meets all their online marketing needs.
5. Have a strong pitch.
As mentioned earlier, having a well-crafted pitch is key to landing clients. Make sure your proposal is tailored to the client's specific needs and showcases your skills and experience in a way that's persuasive and convincing.
Who Are The Most Successful Freelance Pinterest Managers?
The most successful freelance Pinterest managers are the ones who can provide tangible results for their clients. This means having a deep understanding of Pinterest marketing, staying up to date with trends, and being able to think outside the box to come up with creative solutions.
If you can offer all this and more, then you're on your way to becoming a successful freelance Pinterest manager.
Final Thoughts on Freelance Pinterest Managers
Following the above steps should see you to become a Pinterest manager. However, your journey to success doesn't end with securing a few clients. You need to scale up to a point where you start getting clients organically. So, once you've secured a few well-paying clients, turn your attention to optimizing your website for not just lead generation but also conversions.
If wanting to secure a high-paying formal job as a Pinterest manager, keep updating your resume and LinkedIn profile as you prospect for new job opportunities after landing the first one. So if you are wondering, can you actually survive as a freelancer in this niche, you can if you keep at it.