This post may contain affiliate links to products that I recommend and I may earn money or products from companies mentioned in this post. Please check out my disclosure page for more details.
---
It's no wonder why podcasting is on its way to becoming a billion-dollar industry, with projections of 160 Million podcast listeners in 2023 and 20 million each year after. Podcasts are accessible, cover a wide range of exciting and informative topics, and have a seemingly limitless potential to become viral. This form of entertainment isn't going anywhere anytime soon. 
 The best free podcast editing software options include:
GarageBand
Spreaker
Soundtrap
Zencastr
Audacity
PreSonus
Descript
In this article, I'll explore more of your various options for free podcast editing software, why it's so critical to edit your podcasts, a few tips on how to edit your podcast to its perfect publishing potential, and how to publish your podcast once you're done. 
Why Do I Need Editing Software for My Podcast?
Using editing software to edit your podcast will make it sound more professional, encourage repeat listeners, and help you polish your content. Your podcast can be hard to listen to, rough, and less likely to become popular without editing software. 
There are a myriad of reasons why you should learn how to edit your podcast. It's one of the skills you need to be a freelancer if you are online and publishing high-resolution audio recordings and digital media.
With so many different free podcast editing software options available, editing your content is easier than ever. 
Professional Sound
Without editing, your podcast can sound poorly recorded, even if you have a good microphone. While recording, you may not hear unwanted background sounds like: 
Echos 
Reverbs 
A chair creaking 
Microphone squeaking 
and more 
However, these sounds will be apparent to listeners.
The editing process and editing software can help you clean these noises up, removing them from your recording and leaving only the sound of your voice for listeners to hear. 
Too many background noises can also cause listening fatigue in your audience, all but ensuring they won't return for more. 
 High-quality audio sounds professional, even if you are just starting out as a podcaster. Recordings that have had unwanted sounds edited out will help your listeners trust you, have an enjoyable listening experience, and might even make them more likely to subscribe for future episodes. 
Focused Content
Creating long-form podcasts filled with enjoyable, easy-to-follow content can be tricky, especially if you are just starting out. When you record your podcast, you may find that you aren't always sticking to your predetermined script. 
Having a co-host or featuring guests on your podcast can provide an opportunity for more natural, spontaneous discussion. Unplanned 'tangents' are exciting and can add value to your podcast, but unrelated rants or inappropriate content may cause boredom or offense among your listeners.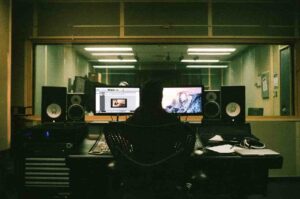 You can use podcast editing software to remove the unwanted fluff, leaving only the best content highlights in your episode. Your audience will thank you for your focused content, even if it wasn't prepared beforehand. 
Sounds and Music
Most popular podcasts include intros, outros, intermissions, theme songs, and sound bites in their episodes. These sounds serve as musical cues for your listener, helping them understand and even predict your episode's formatting. 
You can use music or sounds in your podcast to:
Add suspense 
Signify a sponsor or ad segment 
Highlight a comedic moment 
Create anticipation with an intro 
Signify your outro 
Introduce a guest  
Even podcasts covering more serious material can utilize sound and music to create an audible, engaging atmosphere for your listeners. 
Ensure Episode Consistency
It's essential to keep your podcast episodes consistent, even if you prefer a more organic approach to recording. 
Volume
Podcast volume should remain consistent across your entire episode, especially when you have multiple speakers involved. Podcasts with inconsistent volume can annoy listeners, forcing them to adjust their volume numerous times during the episode. 
Episode Length
While podcast episodes can indeed vary in episode length, editing down your episodes to all match the same or a similar length makes your podcast dependable. 
Your listeners and potential subscribers will always know how long your next podcast episode will be with consistent episode length. Similar episode lengths ensure that listeners will receive quality content for a set amount of time, every time. 
Top 7 Free Podcast Editing Software Options
Luckily, there are several free podcasting editing software choices out there for you to use. However, some offer limited features, are only available on specific systems, and may require a premium subscription for added support. 
 Here are 7 free podcast editing software options: 
GarageBand 
Spreaker 
Soundtrap 
Zencastr 
Audacity 
PreSonus 
Descript 
Every podcast editing software listed here is free to use and easy to learn. 
1. GarageBand
GarageBand is an editing software offered for free by Apple. Although Apple originally designed it as a music creation studio, many have opted to use it to record and edit their podcasts. 
GarageBand is one of the easiest software options to learn how to use, with thousands of online tutorials available to understand its many functions. 
 Here is just one of those online tutorials: 
Because GarageBand is also a music editor, you can use it to add original musical intros, outros, theme songs, and more to your episodes and GarageBand files as you edit. 
Unfortunately, GarageBand is currently only available to Mac users, but it is entirely free to use. You will need a Mac computer.
2. Spreaker 
Spreaker is an editing software provided by iHeart Radio. While Spreaker has several paid-for subscription plans that offer more benefits, its free plan offers everything you need to start out editing your podcast. 
Its free plan includes:
Multiple podcasts hosting 
Unlimited listeners 
Recording 
Live streaming 
In-app editing tools 
If you are interested in how to become a digital entrepreneur and in making money with your podcast through ads, Spreaker has an option.
Spreaker also offers monetizable ads for only $7 a month.  
Spreaker is available on Mac, Windows, iOS, and Android. 
3. Soundtrap
Soundtrap is offered by Spotify, which is one of the most popular podcast platforms. Spotify hosts over 2 million podcasts, with more and more being added every day. 
Soundtrap allows you to edit unlimited projects for free. If you are looking to add sounds to specific segments of your podcast, Soundtrap also offers unique sound effects and packs. 
However, if you want to publish your podcast directly to Spotify, you will have to pay for their $11.99 per month plan. 
You can use Soundtrap on Mac, Windows, iOS, Android, and from your browser. 
4. Zencastr 
Zencastr is a free podcast editing software service that boasts professional recording quality. 
Through Zencastr, you can:
Record high-quality audio 
Record unlimited audio  
Host 5 or more guests 
Zencastr also offers audio/video mixing on a pay-by-use basis. 
You can use Zencastr on Mac, Windows, or on web browsers like Chrome and Microsoft Edge. 
5. Audacity
Audacity is one of the most popular podcast software editing services available for free. Audacity is a cross-platform open-source software, meaning a group of passionate individuals aiming to develop a truly free software developed it. 
Audacity encourages you to learn everything you can about their software so that you can not only use it but improve it to help others.  
New updates are released regularly, and online support is abundant on their platform. 
Audacity allows you to: 
Record live audio 
Record high-quality audio 
Import and export sound files 
Easily edit your recordings 
Map your keyboard for easy use 
View frequencies for podcast editing tools
Add effects  
Audacity is easy to learn even for the most amateur podcasters and editors, with an online manual and an extensive FAQ available in: 
English 
Spanish 
Italian  
Greek 
French 
Their community covers a vast amount of topics related to editing audio, and you can ask your own questions when needed. 
You can access Audacity on Windows, Mac, and Linux. 
Audacity encourages you to download their free software directly from their website. Doing this will help you avoid paying for an unofficial version or accidentally downloading harmful material to your computer. 
Audacity pledges to always be a free audio software, meaning you will never have to worry about surprise fees, subscription plans, or having to pay for support.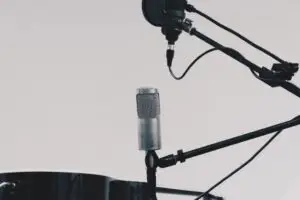 6. PreSonus
PreSonus distributes several kinds of hardware, software, accessories, and more, but they offer a free audio editing software called Studio One 5 Prime. 
Studio One 5 Prime is a downloadable, entirely free software that allows you to create, record, and edit audio.  
Through Studio One 5 Prime, you can: 
Use unlimited audio 
Create your own sounds and music 
Record high-quality audio 
Produce and edit your recordings 
Utilize a library of virtual instruments and special effect sounds 
Use MIDI controllers with the software 
Studio One 5 Prime encourages you to create freely, quite literally. There are no hidden fees or subscription plans to use these features.  
You can create your own sounds and record original audio, or you can access third-party libraries for convenience. 
Studio One 5 Prime is available on Mac and Windows. 
7. Descript
Descript offers a unique, intuitive editing software for free. 
You can use Descript to:
Create transcriptions 
Record your screen 
Edit videos 
Create podcasts 
 Boasting an impressive AI software assistant, Descript offers various editing services guaranteed to polish your podcast into something you can be proud of producing. 
AI Voice Clone
Descript offers you the ability to create an AI clone of your voice in their software. This feature allows you to do what Descript calls 'Overdub.' Overdub is an innovative addition to editing, giving you the almost-magical ability to rewrite your own voice recordings. 
If you called something a different name by mistake while recording, you could use their Overdub program to type what you meant to say. Overdub would then use the AI clone of your voice to implant your preferred words or phrases into your already-recorded episode. 
Filler Words Removal
It can be a tedious, time-consuming process to manually remove filler words like 'um' or 'like' from your podcast recording. Because you may naturally speak with many filler words, you can find yourself cutting out hundreds of instances in your podcast episodes. 
With a single click, Descript's software goes through your recording and removes all of these filler words and any other preferred targets. Your content will sound cleaner, and you will have free time to work on other editing goals. 
Free vs. Pro Version
You can use Descript's Overdub feature on their free version for a limited time. 
Their filler word removal feature is available only through their Pro version, which you can buy for $24 a month. 
Do You Need to Buy Premium Versions of Editing Software?
You do not need to buy premium versions of podcast editing software. While premium versions may have more features available for use, you can edit your podcast to a professional level with any of the free versions available. 
Although premium subscription plans are enticing, you do not need any of them to edit your podcast episodes to a high-quality level.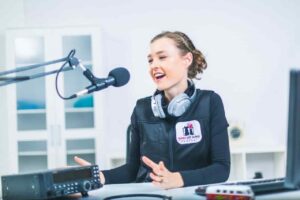 What if You Want More Than What the Free Versions Offer?
If you want more support and features to edit your podcast recordings, you can purchase a premium version of some of the above software services. 
Below is a table of the best podcast editing software, some of the premium versions they offer, and a few included features.  
Podcast Editing Software
Premium Plan Name
Cost
Premium Features Not Included in the Free Plan
Spreaker
Broadcaster
$20/month
*Monetizable Ads
*Upload to Spotify, Apple, and iHeartRadio automatically
*5 podcasts 
Soundtrap
Soundtrap for Storytellers
$11.99/month
*Publish directly to Spotify
*Transcripts
*Automation
*Downloads that are high quality
Zencastr
Professional
$20/month
*1080p video recordings
*Audio and video mixing
*Transcriptions
*Editing soundboard
Descript
Pro
$24/month
*Transcription
*Overdub
*Filler Words
*Marketing help
*Exporting files
Best Podcast Editing Software Table
What Is the Easiest Free Podcast Editing Software?
Audacity is the easiest free podcast editing software because it is open source, has a wealth of accessible information, and directly encourages collaboration and teaching among its users. 
Out of all of the free podcast editing software choices out there, Audacity is available to both Mac and Windows users, is constantly updating, and strives to be one of the most outstanding audio editors for no charge. 
You can use Audacity through every step of the podcasting process, from recording to editing to exporting. 
It allows you to: 
Easily remove background noise 
Move audio 
Add sound effects 
Equalize volume 
and so much more 
Audacity is excellent for beginners because it's open-source, meaning that its processes are all heavily documented and available for anyone to access. 
If you have a question, their massive forums have nearly every category imaginable. 
You can see answers to questions about: 
Downloading the software 
Developing music 
Creating graphics  
Cleaning up your audio quality 
Reducing echo 
other technical questions 
For Mac Users
For Mac users, Garageband is widely considered the easiest free podcast editing software. Garageband is intuitive and beginner-friendly, and you can use it anywhere you have access to your iOS device. 
Can Podcast Editing Software Also Act as Podcast Recording Software?
Yes, some podcast editing software also acts as podcast recording software. Audacity, for example, has a feature that allows you to record directly into the program. 
Garageband also serves as both a podcast editor and recorder for Mac users with iOS devices.
How are Audio Files Compressed?
Audio files are compressed to make the file size smaller without sacrificing sound quality. This is done by encoding the audio into a digital format, which gets rid of any unnecessary information. 
What File Format Should You Export Your Podcast In?
You should export your podcast as an MP3 file format because it is a lossy compression file format, meaning that some data is lost when the file is compressed. 
MP3 file formats are the most compatible with all devices and media players, so you can be sure that your listeners will be able to hear your podcast without any issues. These audio recordings will also take up less space on your computer. 
The MP3 format is the most compatible because it is a lossy compression file format. This means that some data is lost when the file is compressed, but the listener will not be able to hear any difference in sound quality. In addition, the MP3 format is widely accepted and can be played on all devices and media players.
Is Audio Editing Software The Same As A Digital Audio Workstation?
No, audio editing software is not the same as a digital audio workstation (DAW). DAWs are used for music production, while audio editing software is used for post-production. 
DAWs are designed for music production, which means that they come with a lot of features that you will not need if you are only editing podcasts. 
Some of these include: 
MIDI support 
Virtual instruments 
Advanced automation  
Hosting Your Podcast
After you have used any of the above free software for podcast editing to record and edit your content, you can compile them into episodes and prepare to publish them on a podcast hosting platform. 
However, before publishing your podcast, you need to choose a podcast hosting company to host your podcast. A podcast hosting company will help store your podcast in an easy-to-find place where you can then upload it to podcast hosting platforms like Spotify, iTunes, or Google Podcasts. 
I've listed a few popular podcast hosting companies below.  
Popular Podcast Hosting Companies
Podcast Platforms
After finding a podcast hosting company, you can now take your episodes to your preferred podcast platform for publishing. 
Many people recommend having at least three podcast episodes recorded and ready to post right off the bat. Having a few episodes uploaded to your podcasting platform will help listeners understand what your podcast is about and what to expect from upcoming episodes. 
Some of the most common podcasting platforms are listed below: 
Spotify. Spotify is one of the all-time most popular apps for listening to podcasts, thanks to its genre categories and recommendation algorithms. Users can listen to podcasts with or without ads depending on their membership. You can monetize your podcast for this platform, which is a nice touch. 
Apple Podcasts. The Top Charts feature on Apple Podcasts is one of their most appealing features. Podcasters who make it onto the Top Charts section will almost be guaranteed to have their listening base dramatically increase. 
Google Podcasts. Google Podcasts is an excellent choice for Android users listening to or posting podcasts. Out of all of the podcast platforms, Google Podcasts is the biggest one focused on providing more accessibility to their listeners. 
Final Thoughts
There are so many free editing podcast software options out there for beginners and experts looking to polish and perfect their recordings. You can use software to edit podcasts by removing background noise, cleaning up your content, and ensuring consistent volume and episode length. The easiest free podcast editing software out there includes Audacity and Garageband. 
While you don't need a premium version of podcast editing software to produce professional podcasts and content, there are subscription-based plans that you can purchase to access extra features and materials. 
You can use any of these best podcast editing software selections mentioned above to start creating your perfect podcast today. Good luck!
Related Resources
Why an Appointment Scheduler is Important for Freelancers
20 Best Work From Home Job Boards
How to Transition to Working For Yourself