This post may contain affiliate links to products that I recommend and I may earn money or products from companies mentioned in this post. Please check out my disclosure page for more details.
---
Amazon has earned its title as the leading global e-commerce company. And, according to Forbes, it's one of the top 5 best companies in the world to work for. If you want to be part of Amazon's success and join one of its teams, you may be wondering how you can work for Amazon from home.
Here's how to work for Amazon from home in 8 steps:
Consider how much time you can dedicate to a job.
Dedicate a work from home space
Ensure you have a stable and reliable internet connection.
Research virtual jobs on Amazon's careers page. 
Narrow your search to jobs in your area.
Check for any extra equipment you may need. 
Apply to roles you have some experience in.
Prepare for your interview.
Attend necessary training sessions. 
Working for Amazon from home is an aspiration for many and can be a great way to earn extra cash or jumpstart your career. To learn more about how you can get a job working for Amazon without ever having to leave your house, read on.
1. Consider How Much Time You Can Dedicate to a Job
Before beginning your search for a work-from-home job with Amazon, you'll need to consider how much time you have to dedicate to this new role. Some of Amazon's jobs give you the flexibility to choose your hours and shifts, enabling you to work as little or as much as you want. Some roles are advertised as full-time positions, and you'll need to commit to a whole work week.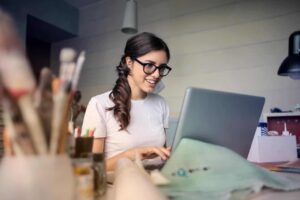 In addition to the opportunity to work remotely, Amazon provides its employees with several company benefits. But to qualify for those benefits, you may need to work a certain number of hours or have a full-time position.
Here's an overview of the company perks that come with working at Amazon and are offered with some remote positions:
Sign-on bonus. A sign-on bonus is provided to some new employees as part of the company's welcome package. 
Medical insurance. The company also has a medical advice and counseling line open to employees for support. 
Dental insurance. Not all medical insurance packages include dental coverage, so Amazon offers supplementary dental insurance to its employees. 
Paid vacation time. The company allows you to take vacation time while still earning an income.
Fair wages. Amazon provides wage ranges based on your location, experience, and current market rate.
401(k) plans. The company also offers to match your contributions by 50%. 
Stock options. This allows you to get on the investment ladder. 
Paid parental leave. Amazon enables you to take an extended paid leave so that you can spend time with your growing family. 
Amazon typically posts salary ranges and hourly wages for each of its jobs in the descriptions, so you'll know how much you can earn from the position. If you're curious about additional or specific benefits offered for your desired position, you'll need to ask the recruiter during your interview. 
Here's a quick look at the type of virtual positions Amazon has available:
Full-Time Roles
Amazon has hundreds of full-time, virtual positions across different departments and locations. As a matter of fact, Amazon is looking to fill 250 work-from-home jobs in their company.
Full-time positions usually require between 35 – 40 hours per work week, depending on your location and the job's requirements. 
 Amazon full-time positions include:
Program Manager
Customer Service Associate
Software Development Engineer in Test
Technical Program Manager
Business Development Manager
Creative Content Manager
The upside to working for Amazon in a full-time, virtual role is you can earn a fair salary and benefits from the comfort of your own home. Some positions are also great stepping-stones to advance your career. 
Whether you are considering Amazon for remote work vs. work from home, one thing is clear. You won't need to make those tedious commutes during rush hour!
Part-Time Roles
Many places allow you to work from home; you can even make money on UpVoice. Amazon is no different. You can work for Amazon from home part-time. Amazon offers some part-time roles with hours ranging from 20 – 39 per week. The caveat with the part-time roles is that some are short-term and may not provide benefits. The primary advantage of part-time positions is that you're able to work as many or as few shifts as you want and when you want. 
 Amazon part-time positions include:
Customer Service Associate
Account Manager
Customer Experience Specialist
Merchandising Specialist
Account Manager
Some roles even have shifts available on nights, weekends, and holidays. 
Seasonal Roles
Every year, between September and January, Amazon hires more employees to help manage their year-end holiday rush. The company promotes its Prime Day deals and Black Friday and Cyber Monday shopping events, which require more employees to tackle customer queries and increased website traffic. 
 Amazon seasonal roles include:
Customer Service Associate
Fulfillment Center Associate
Quality Assurance Engineer – Tech Ops
Inbound Customer Service Representative
Fulfillment Center Associate
Warehouse Associate – Preparation
Many of the jobs offered during this period are seasonal, but they can be a superb way to earn some extra money right before the holidays. If you plan on applying for other virtual Amazon jobs, you can also use your seasonal work experience to boost your application for future applications. 
2. Dedicate a Work From Home Space
Amazon also requires that you have an appropriate work environment to complete your tasks efficiently, especially if you're working in a customer-facing role. This includes a quiet workspace that is private and isn't prone to outside noises, such as construction, sirens, or barking dogs. You should know how to mute on Zoom in case your face-to-face interactions require customer support.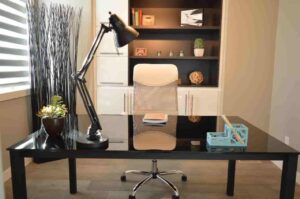 If you plan to work from home in any capacity, it's best to create a dedicated office space where you can connect and work without any distractions.
How Can You Improve Your Work From Home Setup?
If you struggle focusing while working from home, it might be because of your setup. To work effectively, you'll need to work in a quiet space with minimal distractions. Here are a few work from home tips to help make your work environment more conducive for getting work done:
Invest In Noise-Cancelling Headphones or Earplugs
Make Your Work Space Private
Invest In a Standing Desk
Dress for Success
Making these few minor work-from-home improvements may help you work more efficiently and feel less distracted at work.
3. Ensure You Have a Stable and Reliable Internet Connection
Amazon's work-from-home jobs will require you to have a stable and reliable internet connection so you can log on and perform your tasks. Without internet, you won't be able to communicate with your teams, managers, or customers as effectively. If you have to manage a team remotely, a reliable internet connection is vital.
Amazon's virtual job listings will include information about the required internet speed.
Some Amazon jobs ask for internet with at least 2MGB upload speed, and others request FiberOptic internet connections. 
On top of having a stable internet connection, Amazon also requires that you have an appropriate work environment to complete your tasks efficiently, especially if you're working in a customer-facing role. This includes a quiet workspace that is private and isn't prone to outside noises, such as construction, sirens, or barking dogs. 
If you plan to work from home in any capacity, it's best to create a dedicated office space where you can connect and work without any distractions. 
4. Research Virtual Jobs on Amazon's Careers Page
Amazon's job portal has hundreds of virtual jobs across different departments, so you shouldn't have trouble finding a role you're compatible with. Some positions may require professional training or formal education, while others ask for experience in similar roles. You'll need to read the job description thoroughly before applying. 
It is possible to find some entry-level remote jobs that don't require any experience, as long as you clearly state on your application how you can fulfill the job duties. 
Additionally, video interview tips for remote job interviews are also super beneficial.
Here are a few of Amazon's most popular virtual positions and departments you can work in:
Customer Service Associate
With over 50+ positions available in several countries, the company is eager to find customer service associates who are friendly and willing to engage with its customers. A lot of people work from home as an Amazon customer service representative online. In this role, you'll represent the company and have a chance to speak with Amazon customers directly about their orders and queries. 
As an Amazon customer service representative, you will communicate with customers through:
the phone
through email
online chat
You may work with other departments in the customer service team to respond to customer requests about refunds on damaged or defective products, tracking missing packages, or account credits. 
In some roles, you'll work from your home on a virtual work schedule of your choice, while in other roles, you will work from one of Amazon's workspaces. Working in these roles with technology is one of the benefits of telecommuting and virtual employment. You can work as much or as little as you want, depending on the work schedule you choose.
You'll need to be pragmatic, tactical, and patient. The company prefers those who have some experience in customer service roles or have worked in customer-facing jobs in the past. 
Human Resources
You can also choose to work in human resources if you're interested in recruitment, procurement, or business development. Working on the company's human resources team enables you to help others land their jobs with Amazon and find top talent. 
 Working for Amazon in Human Resources includes:
managing work experience
preparing work summaries for prospective employees
understanding job requirements and qualifications of applicants looking to work with Amazon. As a
For human resources roles, the company prefers applicants that can use recruitment software and have experience in with experience in recruitment or human resources.
Editorial and Content Management
If you enjoy writing, creating content, or editing content, you may be able to land a virtual job on Amazon's editorial team.  
 As a member of Amazon's editorial team, you might:
write press releases
create company promotional content
manage content on the website
The editorial team works with product managers, marketing teams, and external agencies to develop high-quality content.
Ideally, you'll need impeccable writing and communication skills and some experience in the field. It's a plus if you have a portfolio demonstrating your work. You may also need knowledge of SEO, SEM, and analytics tools to plan, develop, and roll out content. 
IT and Operations
If you're more of a technical person or have formal IT training, you may be able to land a job working for Amazon's IT, operations, or devices teams. These teams oversee Amazon's digital platforms, services, and devices. 
 Amazon in-demand IT and operations positions include:
network engineers
software developers
system architects
These jobs are some of the highest paying freelance jobs available in many companies, including Amazon. The company also looks for software engineers to improve the website's user experience, interface, and performance. 
Administration
Amazon offers many administrative roles suitable for those with exceptional organizational skills. Not only can you help teams work together efficiently, but you can solve complex problems in the workplace, oversee the handling of essential files, and take on tasks that enable the company to run smoothly. 
 Amazon's administration work roles include:
administrative assistants
office managers
operations managers
You may work with teams to set up meetings, manage calendars
Most administrative jobs will require experience using Microsoft Office Suite, attention to detail, and flexibility. You can check out some available jobs in administration here. 
5. Narrow Your Search to Jobs in Your Area
When looking for virtual Amazon jobs, it's important to note that not all of the company's work-from-home opportunities are available in every location. The job advertisements will state the required place for each position under the job title. So, keep in mind that you may not be eligible to apply if you aren't in the specified country or US state. 
However, several of Amazon's work-from-home jobs in the US can be carried out in various states, but you should still check before applying. 
For international positions, you may be required to live in a specific country or region and will need to show proof that you reside in that location, such as a residence permit. You also need to have specific language skills for some roles outside the US, especially if you have a customer-facing role. 
To quickly search for Amazon's virtual jobs in your area, follow these steps:
Go to Amazon's careers page for virtual jobs. 
Filter out jobs by location on the left-hand side. You can start by searching for a country-specific location, such as the US. 
You can filter the options down further by selecting your state or city.
Scroll through the available jobs in your location.
If you're having trouble filtering out the jobs by location, you can also manually type your location into the search box at the top of the screen. Then, scroll down and select the 'Work from Home' filter on the left-hand side. This will give you results for jobs in your area.
6. Check for Any Additional Equipment You May Need
Depending on the type of job you get, you may be required to have some extra equipment for your role, aside from your desktop or laptop. Some positions may require specialized duties and tasks.
What Equipment Do You Need To Work From Home?
There are some additional work-from-home jobs in Amazon's marketing and sales team, where you work on projects for the company. Sales professionals work with customers, grow their customer base, and work with marketing teams to plot a brand's growth strategy. 
For these Amazon work-from-home jobs, you need:
smartphones
tablets
headsets
microphones
scanners
printers, for work documents
You may also need specialized software that needs to be installed on your computer.  
Many of Amazon's positions also want you to have experience working with the Microsoft Office Suite. If you don't have access to the program on your computer, you should check with the recruiter or line manager and ask for the best way to obtain it.  
7. Apply To Roles You Have Some Experience In
Amazon offers several professional roles ranging from entry-level to specialist to executive positions. However, when applying to work-from-home jobs, you should try to apply for classes that you have some experience in. This will help your application stand out and can increase your chances of getting an interview. 
For example, customer service associate roles request that you have experience in a customer-facing environment. If you've never worked as a customer service associate before but have handled customer queries in other capacities, clearly explain this on your application. 
You can also use examples of volunteer work, internships, and schoolwork to showcase how you would be suitable for the role. 
To find the jobs you have some experience in, follow these steps:
Go to Amazon's careers page for virtual jobs. 
Filter the jobs by your location on the left-hand side. 
Filter jobs in your desired department, also on the left-hand side. 
Review jobs you find appealing based on your previous experience. 
Once you find a role you want to apply to, click on the button that says, 'apply now.'
Follow the prompts to create an Amazon jobs account, and make your candidate profile. 
Attach a copy of your resume and a cover letter or personal statement. In your cover letter or personal statement, be sure to include some unique traits that would make you great for the position, such as your friendly demeanor, positive attitude, and problem-solving abilities. Use this as an opportunity to explain why you would be a good fit for the role. 
Some jobs may also request a copy of your degrees or certifications earned, a portfolio, references, and other legal documents, such as a passport or government-issued ID. 
8. Prepare for Your Interview
Amazon is a desirable place to work for many, even more so for those who want to work from home. This means that, although Amazon has several virtual positions open, they can be competitive. You'll need to stand out on both your application and during your interview if you want one of Amazon's virtual jobs. 
Along with reading through the job description thoroughly, you'll also want to look up how Amazon conducts their interviews and the types of questions they ask. Even though the position is offered on a virtual, remote basis, you'll still be expected to present yourself professionally during the interview and showcase your skills accordingly. You might also inquire about contract-to-hire jobs during the interview as an option to get experience.
The interview process will depend on the job but usually consists of phone calls with recruiters, an interview with a hiring manager, or a panel interview with the team.
Read up on blogs and forums about others' interviews and experiences to better prepare yourself for the interview. This should give you an idea of the type of questions asked. You can also watch YouTube videos on interviewing techniques to help you give clear and concise answers. 
Lastly, you should also review Amazon's Leadership Principles and provide your interviewers with examples of how you meet these values in your work. 
9. Attend Necessary Training Sessions
Some of Amazon's work-from-home jobs may also require you to attend training sessions to perform the job functions. These are important because they'll teach you different aspects of the job and how you can work efficiently, even if you're at home. Some training sessions are offered virtually, while others may require in-person attendance at a local facility. 
Be sure to check with your supervisor or the human resources department for more information if you're asked to attend a training session, participate in a workshop, or have training materials you need to review before starting working. 
On top of its mandatory training sessions, Amazon also provides further growth and professional development opportunities, which you can take advantage of once you're on the team.
Work At Home For Amazon Takeaways
Working for Amazon from home can be a great way to kickstart your career or earn extra cash without leaving your house. Amazon offers numerous job opportunities that can be performed online, including customer service roles, IT support, and administrative positions. If you become a full-time employee, you may be entitled to some of Amazon's fantastic company benefits, such as paid parental leave and medical insurance. 
The best part, Amazon has announced that some jobs will be remote indefinitely.
Aside from the benefits, Amazon's positions also offer competitive wages, so regardless of whether you land a full-time or part-time job, you can trust that you'll be compensated fairly for your work.